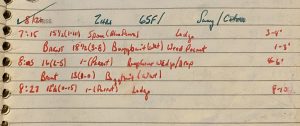 Anybody know where you were 20 years ago today?
Well, thanks to a fishing log, I just so happen to know that I was fishing with my brother, Brent.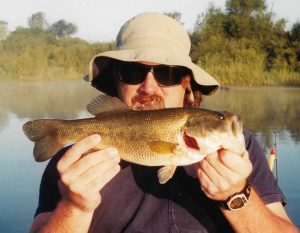 August 20, 2001 – 15.5″ and 1-11 on a Zara Spook (blue shore minnnow)
Today's flashback is another trip to what we called "Emstrom's Pond" just west of Galesburg, in between US 34 and the drive-in. If you follow the Friday Flashbacks, we've been here before. And probably will be again.
But today, instead of focusing on the pond, I'll look at the lures that caught the bass back on August 20, 2001. I'll also look at a couple lures that appear in the catch photos but didn't actually fool any bass on that day.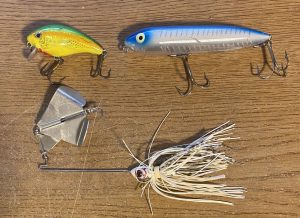 The picture above features the lures that were winners and appear in the log entries. Top to bottom, left to right, are a Mann's Baby 1- (I called this color parrot, not sure what it is really called), a Zara Spook (blue shore minnow) and a buzzbait (white). All have been solid producers over the years and their current usage varies. In the case of buzzbaits, I throw them a lot, possibly too much when I should likely throw something else. I still break out the Mann's Baby 1- crankbaits fairly often and have some specific spots on the waters I fish where they are a go to lure. As far as the Zara Spook, I don't throw it much anymore although it was once one of my favorite summer lures. Just one of those things as some lure preferences and confidence baits tend to come and go over the years.
Other lures as noted in the August 20, 2001 pictures below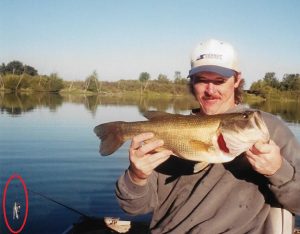 August 20, 2001 – 3-8 on a buzzbait (white)
A couple such lures appear in the background of a pair of the pics from 2001. To Brent's right in the photo above is a white spinnerbait, a lure type that he still wields with impressive effectiveness. In the case of his spinnerbait presentation, I don't believe it has seen many ups and downs over the years. In fact, I can't recall the last time we fished together when he did not have a spinnerbait tied on the end of one of his poles.
To my left in the picture below is a Bomber 15A jerkbait. For a period from the late 1990s into the early 2000s it was a solid producer anywhere I fished. Contrary to Brent sticking with the spinnerbait, however, my jerkbait choice was just a trend. I rarely use the baits anymore although I have no reason to believe that they would have lost their appeal. Just one of those things as other lures have come to prominence in my arsenal.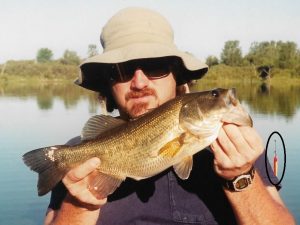 August 20, 2001 – 16″ and 2-5 on a Mann's Baby 1- (parrot)
Such is part of the fun of fishing, and it makes me happy that I continue to document my catches in a log and nowadays a blog. It's fun to look back on what has fooled the fish throughout the years. Some lures became legends while others faded away. A guy could write a whole blog series on such things.
And I have. Perhaps someday I will revisit the concept. Talk to you later. Troy