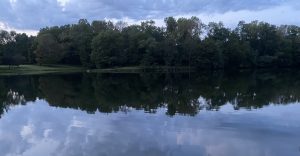 A busy Friday last week finished with a couple hours on some old stomping grounds. Prior to getting on the water, I had worked a half day, visited with a fishing buddy, paid my respects to another fishing friend who recently passed away and had a good visit with my folks while back in Galesburg.
Stats
Date: September 10, 2021
Location: Little John Conservation Club – Knox County, IL
Time: 5:10pm-7:20pm (2.00 hours fishing)
Weather: Sunny/breezy to calm
Air Temp: 64-75F
Water Temp: not available
Totals: 2 bass, 7 bluegill
Lures: War Eagle Spinnerbait (white/chartreuse) – 2 bass, Gulp Minnow (emerald shiner) on a 1/16 oz. jighead (pink) – 7 bluegill
Top Bass: 2-13 Spinnerbait
Top 5 Weight (only 2 at 12" or better): 4-9 (2-13,1-12)
5:35pm – First bass 1-12 (15.5″) on a spinnerbait
Notes and Nonsense
Overdue and Off Limits – I've fished Little John Conservation Club for close to 35 years but had only managed one visit this year as my casting has focused on other waters. With several spots to choose from at Little John it is a challenge to decide where to fish. While I had it narrowed down to two spots, my decision was made for me as the first choice was off limits to anglers due to goose hunting. I can't recall ever experiencing such a restriction at Little John before. I agree that the goose population could certainly stand to be thinned but it frustrates me to see it limit my fishing (see also Snakeden Hollow).
Believe it or not, these bass were only separated by an ounce in weight as displayed on scale and described below
Same Size, Different Shape – I like fish and over the years I've come to appreciate the variation in size, shape, and color of many of the species that swim in our area waters. In particular, the body plan and hues of my favorite, the largemouth bass, always catch my eye. On this trip, my Top Bass weighed in at 2-13 and measured 17" in length. Without getting into my vast collection of data over the years, those measurements indicate a stout, solid bass. In contrast, Brent landed a 2-12 a couple days later that was considerably longer (around 19" or 20") but was rather gaunt. The series of pics above feature these catches along with the reading on my scale. Angler honesty has long been a point of contention and in some cases questionable. Indeed, it is tough to believe that these fish essentially tipped the scales at the same weight. No way that I would guess that from the photos, so I guess the moral of this fish story is to shoot straight and let the internet haters hate.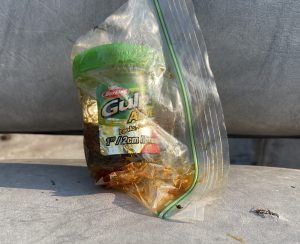 Gulp Minnow Master – I was able to get the afternoon off from work so that I could attend the visitation of an old fishing friend, Larry Smith. Larry and I have been telling fish stories off and on since the late 80s and our correspondence had really kicked up a notch over the last ten years or so via emails, texts, and some on the water visits. Larry was a wizard with a jar of Berkley Gulp Minnows as his catches were phenomenal in terms of both quantity and quality. While he often focused on bluegill and crappie, he and his Gulp Minnows landed nearly every species that swims. In fact, just a week before Larry passed away, he texted me a picture of a good Lake Storey muskie and informed via email that "Two days ago caught a musky at Lake Storey to complete my catching every species of fish that swims there on a Gulp Minnow." A master indeed and I sure will miss his fish stories.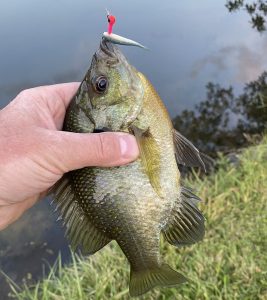 Dedicated the end of the evening to some Gulp Minnow fishing for an old friend
Talk to you later. Troy