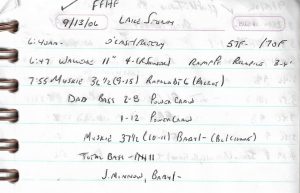 My "home" lake, Lake Storey, is in the process of the annual fall drawdown which I always find to be a welcome sight. It can also coincide with some good fishing if you are in the right place at the right time. Fifteen years ago this week, Dad and I timed it well as noted in the following excerpt from an old fishing report.
Originally posted 9-30-06
September 13, 2006
Dad and I had planned a trip but were unsure of our destination until the night before when I dropped Helena off for her overnight stay at Gamaw and Papa's. I was torn between Lake Bracken and one of the Little John lakes that we've neglected this year. However, Dad mentioned that Lake Storey was already in the process of its Fall drawdown. He also went on to mention that Brent had seen a guy with a large muskie during a family gathering on 9/10. In addition, Tim had some luck with muskies last year during similar conditions, so we figured it was worth another try.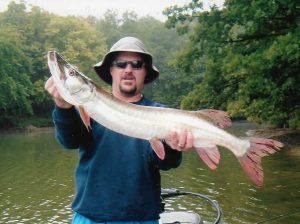 September 13, 2006 at 7:55am – 36.5″ muskie on a Rapala DT6 crankbait
We were not disappointed as we each managed to boat a muskie. Mine came aboard first and measured 36.5 inches and weighed 9-15 to best Tim's muskie record by two pounds. The fish was caught at 7:55 am, just over an hour into our trip. It bit while bass fishing with a Rapala DT6 (parrot) that hooked up almost as soon as it hit the water. When I set the hook, I actually said to Dad, "I think it's a snag." Then the snag started moving, and then we recognized a different and much larger body plan than a bass. Dad did an excellent job netting the fish and we brought it aboard, snapped a few photos, released the fish, and had to cut my crankbait out of the dipnet. I figured that no matter what happened the rest of the day, I was a happy fisherman. However, I'm greedy and hoped for more as we had plenty of fishing left.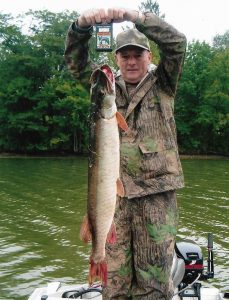 September 13, 2006 – 37.5″ muskie on a Mann's Baby 1- crankbait
My muskie record stood for approximately an hour and a half before a larger muskie came aboard. Dad nailed this one off the west side of Freak's Point on a Mann's Baby 1- crankbait (splatterback sunfish). His fish measured 37.5 inches and weighed in at 10-11. I snapped a couple pictures as he fought the fish along with a few more after it was landed. The muskie was Dad's first entry for the species although he has caught one before the days of recorded history. He presently sits atop the Top Muskie list with the third record buster from Lake Storey in the last two years. The crazy thing is there is likely a fish in the lake that is three and quite possibly four times as large. Not only would this fish shatter our record, but it would also be a state record if it tips the scales in excess of 38-8. A final note on these fish is the fact that they were longer than either of my kids are tall (Helena's around 34") and outweighed the little one (Carly weighed in at 9-7 during her latest checkup).
1-12 on a Power Craw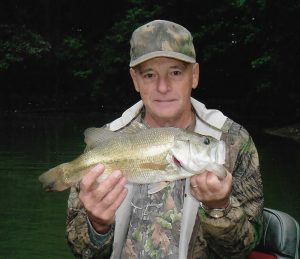 2-8 on a Power Craw
Oh yeah, we also fooled a few bass and a walleye. Dad caught seven bass with the largest being 2-8 and 1-12. This pair fell to a Berkeley Power Craw that he flipped into the branches of a downed tree. He landed the others on a Rapala Jointed Minnow and a Mann's Baby 1- crankbait. I failed to catch any bass but started our day with a small walleye (11") that hit a Mann's 4- crankbait (red shiner).
If things work out, I intend to take a shot or two during this year's drawdown. As always, you'll get the firsthand report, good or bad, here at your favorite fishing blog. Talk to you later. Troy