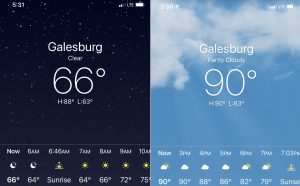 September means the annual drawdown at Lake Storey and calls for at least a visit or two back to my "home lake." My brother, Brent, and I caught our first fish in Lake Storey sometime in the 1970s and we're still going strong all these years later.
Stats
Date: September 19, 2021
Location: Lake Storey – Knox County, IL
Time: 6:25am-1:40pm
Weather: Sunny/calm to windy
Air Temp: 66-89F
Water Temp: 76-78F
Totals: 27 bass (Troy = 14 bass, Brent = 13 bass. 1 crappie)
Lures: Strike King Rattling Squarebill Crankbait (natural pumpkinseed) – 12 bass, Bomber Flat A crankbait – 8 bass, Emiquon Special spinnerbait – 4 bass Strike King Red Eye Shad (orange craw) – 2 bass, 5" Yamasenko wacky rig – 1 bass,
Top Bass: 2-9 Troy Crankbait
Top 5 Weight: 10-10 (2-9,2-8,2-3,1-11,1-11)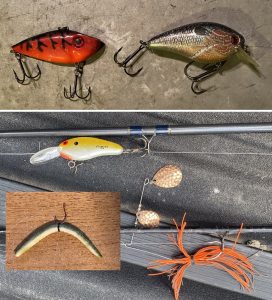 Notes and Nonsense
The Prediction – My boy, Zac, always harasses me about his Uncle Brent being a better fisherman than me. I play along knowing that years of firsthand observation show that trip by trip it varies as to who is "the best". Prior to the trip I asked Zac how many bass he thought we would catch, and he answered "twenty-five." His optimism exceeded mine and I offered up that a ten bass outing for me at Lake Storey is a solid day. He then grinned and offered up that Uncle Brent would outfish me 7 to 2. It turns out the Zac's original prediction was close as we landed 27 bass. However, I was the one grinning when I told him that I had the most bass. Of course, he was quick to add that the difference was "only" one fish. All in good fun, and who's counting anyway? At least until we get back to the boat ramp.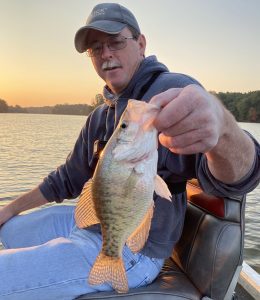 Bonus crappie caught on a spinnerbait
The Presentations – The drawdown leaves the shoreline structure high and dry which means that you need to fish the contours, any still submerged visible structure and those "secret spots" that are never visible to the naked eye. And in our case, we fish fast unless the bass tell us otherwise. Fortunately, for us they were quite responsive to a batch of "power" presentations including crankbaits, a spinnerbait, and a lipless crank. The successful Senko wacky rig offering got left behind as a result. Whether it is not as effective on Lake Storey or whether we just don't throw it enough out there is up for debate. But if the bass are biting on my other choices, I've got no problem saving the Senko for another day.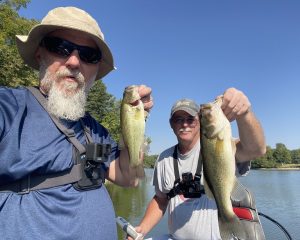 I guess that's about all I've got to say for today. The bass did the talking and we've been listening and learning for many years. This day was our day but Lake Storey can be a finicky fishing hole so who knows what lies in store should we get another shot this fall. I expect we will so stay tuned and also watch for another post of some additional Lake Storey stories from this outing. Talk to you later. Troy