While Brent and I caught decent numbers and some quality fish on last Sunday's outing, as with any trip, there's more to the story than just the catch. Today's post features some of the peripheral highlights from our day on the water.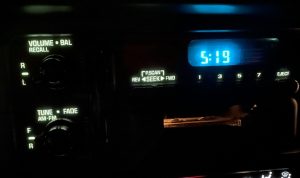 I like to launch in the dark to be on the water by the official sunrise. To do so with a 45-minute drive to the fishing hole, I've got to get up and get on the road early. At least as summer wanes, the sunrise isn't quite so early and having a fishing partner meet you at the lake with the boat in tow also helps.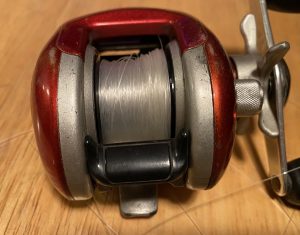 The first casualty of the trip was a reel as the level wind gave out on my Bass Pro Shops Tourney Special model. I am a frugal fisherman (and human) so the dozen or so years that I got out of this low budget reel was just fine. I tried to keep fishing with it even though the line piled to one side of the spool but eventually it seized up and forced my hand to put it away. It now joins the tub of reels from the last 35 years that need to find a reel repair shop.


Casualty number two was Brent's Shimano Black Magnum Fightin' Rod which snapped in half on a cast. I don't know if he was sadder or I was, as those old Shimano Fightin' Rod models take me back to our earliest days of bass fishing. Old school 5'6" rods with a tapered blank that was fat at the reel seat were a hot item for us back in the 1980s. I remember admiring one for many days at Farm King before finally breaking down and spending some money. Mine is long gone and Brent's was the last of its kind in our arsenal.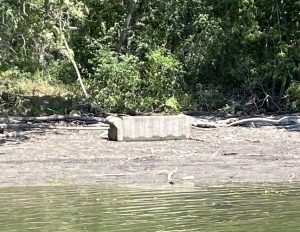 In the back of one pocket on the lake, we spotted a couch on the bare, mucky bank of exposed bottom. We shook our heads at the ambitiousness of the vandals responsible, first pondering why someone would do such a thing. And why in the world would you go through the effort of hauling it to such a remote location?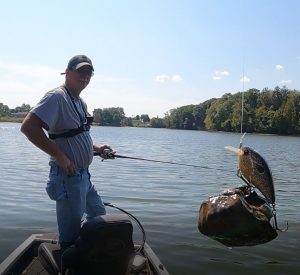 Prior to this trip, I think I could say that in all my years of fishing that I had never caught a rock. There's a first for everything and I don't believe that I will soon forget the odd occurrence. It was strange sensation, wondering what was on the line. I've caught logs, sticks, trash, a jar, a glove, rope, fishing line and other random items and most can deceive with some lateral movement or varied resistance on the retrieve. This one was just dead weight which makes sense in hindsight, it fought like I would imagine a rock would fight.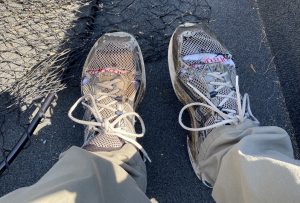 Brent poked fun at my fishing shoes as they have seen better days. Julie keeps telling me that I should throw them away, but I believe that they are good for plenty more fishing and lawn mowing. As far as the latter task, Brent stated that they looked like they had been hit with a lawnmower. But after a good day on the water, I certainly need to keep them on hand for more good luck.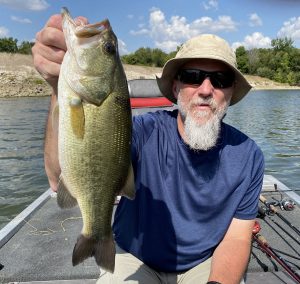 To round out today's post, it is always good to have a fishing partner along for various reasons. One of those reasons is photography as it alleviates the selfie and timer shots. On this outing it also allowed for Brent to shoot what I call a fishing magazine photo. We don't normally pull the zoom in/hold your arm out stunt. In fact, I just grin as I peruse the social media pics of fish that look freakishly (and foolishly) large. This bass weighed in at 2-9 but could certainly pass for a larger fish if one didn't shoot straight.
An entertaining day on the water and always looking forward to seeing what the next trip holds in store. Talk to you later. Troy