Fifteen years ago, I had the good fortune of prowling a fantastic batch of Fulton County fishing holes. Collectively, they were referred to as the Buckheart strip mines. It wasn't the first time that I had prowled these waters, but it would be the next to last visit. Below is an excerpt from the original post detailing a full day on the water with my brother-in-law, David Breuer and my nephew, Dylan Breuer.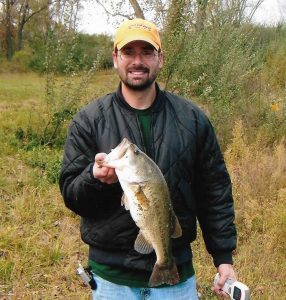 David with our Top Bass Runner-Up on the day at 4-1
Originally posted 10-6-2006
On September 24th I had another opportunity to fish the Buckheart strip mines near Canton. The waters had been kind to me on previous outings and my trip with David and Dylan was no exception. We put in a full day as our first casts hit the water a little after 7:00 am and we headed for home around 6:00 pm. In between, we fished nine bodies of water ranging from large-scale strip pits to potholes that you could easily cast a lure across. We began our day in the boat but spent the bulk of the day prowling the banks. Several bass joined the record book and though I felt that I struggled at times, I still wound up catching 32 bass. David was easily the top angler of the day putting on an impressive display both in quantity and quality. Dylan came on strong after a rough start to teach me a thing or two about fishing even though I've got a twenty-five-year head start. It's fun to watch a kid when he gets a good bite going and puts on a show. He's a good kid, and pretty quiet too, so he doesn't rub it in too much.
A Tale of Two Days – When we began our day, we launched the boat to overcast skies, strong winds, cool temperatures, and a looming threat of rain. My turtleneck and sweatshirt were a good decision though I did question leaving my rain suit in my truck. By early afternoon, it seemed like a completely different day as I had worked up a sweat under sunny skies and warming temps. We had a smattering of rain mid-morning that led to the decision to trailer the boat in case things got ugly but that was the extent of the precipitation. The changing weather conditions didn't really seem to have much of an effect on getting bites, as it seemed at least someone was catching fish throughout most of the day. With three anglers pounding the water and frequently changing fishing holes we managed to avoid prolonged dry spells.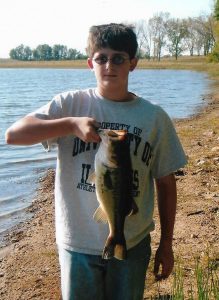 Dylan with a 3-14 for his Top Bass of the outing
Results – Between the three of us we easily caught well over a hundred bass on a variety of offerings. The top baits were Rat L Traps, Senkos, spinnerbaits and crankbaits. We added five bass to the record book, but the largest fish of the day was not weighed. David caught one in the five-pound range at our final stop but did not have his scale with him at the time and I was on the opposite side of the lake making it impractical to head his way with my scale and camera. Despite this unfortunate situation, he still managed to claim Top Bass with a 4-1 landed earlier in the day on a Rat L Trap. Dylan later took a shot at the title but fell a few ounces short with a 3-14 on a spinnerbait. Dylan also claimed the third spot with a 3-2 on a Rat L Trap and I added a 2-15 (Rapala Rattlin Rap) and a 2-6 (Senko) to round out or new entries.
Good memories from some classic fishing holes. But as time moved on, parcels of the land were sold off and now reside behind locked gates for which I no longer have a key. I sure wish that I would have taken more advantage of the access I had back in those days, but old fish stories and flashbacks will have to suffice. Talk to you later. Troy