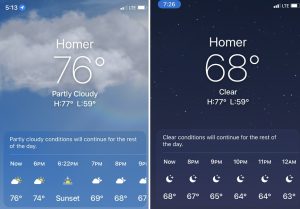 Work took me to North Carolina last week and required driving due to hauling a batch of equipment. I packed along a few fishing poles with the intent of hitting some eastern Illinois water on the way home. My choice was Homer Lake in Champaign County as it offered proximity to I-74 and a couple of hours of daylight.
Stats
Date: October 8, 2021
Location: Homer Lake – Champaign County, IL
Time: 5:15pm-6:45pm
Weather: Sunny/calm
Air Temp: 70sF
Water Temp: Not available
Totals: 2 bass
Lures: Mann's Baby 1- crankbait (red craw) – 2 bass
Top Bass: 10.5"
Top 5 Weight: none at 12" or better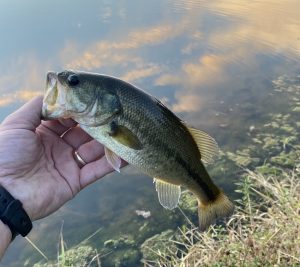 6:16pm First bass, mission accomplished
Trip Tune
"Way Less Sad" – AJR (2021)
My "fishing trip" consisted of over 30 hours of driving, and I was in search of this song as I had no idea who sang it or what it was called. Just that I liked it and it gave me a sort of 70s vibe. Turns out that I wound up hearing it right before I got home, courtesy of a detour of several minutes due to road construction on my normal route through Colona. What are the odds? And speaking of odd, I had just queued up Supertramp's "Take the Long Way Home" prior to encountering the construction and having to do just that. Even better was correctly identifying the 70s vibe as a sample from Simon and Garfunkel's "My Little Town." Overall, a cool ending to my weeklong journey.
Notes and Nonsense
Helpful Angler – I chatted with a young fisherman onsite who gave the fishery a thumbs up. When I told him that I was torn between a stop at Homer Lake versus a stop at Lake of the Woods near Mahomet, Illinois, he said that I made the right choice. He added that he'd been fishing Homer Lake for 19 years, so I figured that his recommendation carried some weight. However, I refrained from asking if he'd first fished it from a stroller as he looked to be about 20 years old.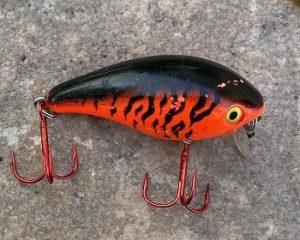 Mann's Baby 1- crankbait, a good shallow, warm water, riprap option
First Impression – I only explored a few hundred yards of bank in three spots but I must say that Homer Lake was rather appealing. To varying degrees, riprap lined the shoreline at and below the waterline. For my money, when only having a short time to try my luck on a new lake, I look for riprap. When pondering some casts on new water I always look to start on the dam as it likely contains some rock and will have some deep water along with a transition to shallower water along its ends. In addition to the rock, there were also several laydowns and stumps within casting distance along the areas that I fished. I like targets and they are even more appealing when I have a narrow window to fool a fish or two. No matter if everyone and their brother fishes such visible structure as I've never minded fishing "used" water.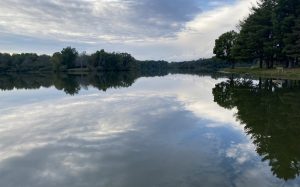 Mission accomplished as I was able to land a pair of bass from the bank on some water I'd never previously seen. For me, that is a victory even if the quality weren't much to brag about. However, I do have a couple more fishing reports on the way that do contain some quality catches. Talk to you later. Troy