Still trying to play catch up with the fishing reports due to a combination of being busy with work and striving to get in my final fishing trips of the year. Today, we take another look at The Canal via the combined reports from September.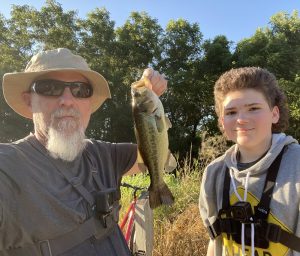 Jayce joined up on 9/6 but even two lures in the water only resulted in one total bass
Stats
Date: September 6, 18 & 25, 2021
Location: Hennepin Canal – Henry County, IL
Time: 5.50 hours total (2 mornings, one evening)
Weather: Sunny/breezy each day
Totals: 7 bass (9/6 – 1 bass, 9/18 – 3 bass, 9/25 – 3 bass)
Lures: 5" Yamasenko wacky rig (green pumpkin/white crème laminate) – 4 bass, Rebel Pop'R Zell Rowland Model – 2 bass, Mann's Baby 1- crankbait (red craw) – 1 bass
Top Bass: 3-1 (Pop'R)
Top 5 Weight (only 4 at 12" or better): 8-14 (3-1,2-11,2-3,0-15)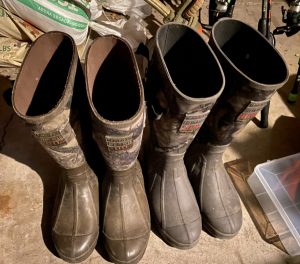 Had to get new boots for my son, Jayce, same size as mine.
Notes and Nonsense
September 6 – For a change, I was able to convince some company to join me on a prowl as my oldest boy, Jayce, came along for a scenic bike ride. Unfortunately, a bit of exercise was what this trip was all about as we only got one bite. It was also too bad that it was my bite instead of Jayce's but a quality fish at 2-3 on a Senko wacky rig.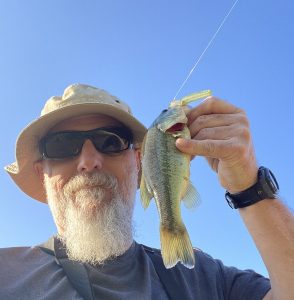 A disappointing small bass day on 9/18
September 18 – A cool, pleasant mid-September morning would rank as one of my favorite times to fish. However, this morning was not one of the favorite times for the fish to bite. Two stops resulted in a disappointing haul of three small bass between eight and nine inches. Just one of those days that make no sense when you can't figure out those fish.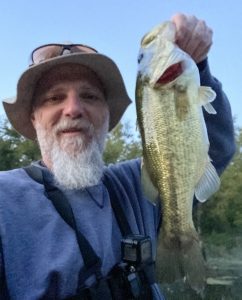 September 25 at 6:30am, first cast bass at 2-11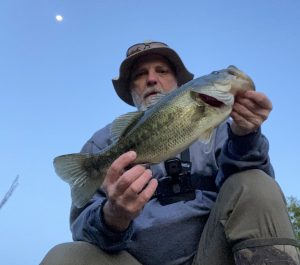 September 25 at 6:34am, second cast bass at 3-1
September 25 – The bass redeemed themselves from the previous week as I had a couple early morning hours to get away. My first two casts resulted in two quality bass that totaled nearly six pounds (2-11 and 3-1). The cool thing was that the bass bit on an old topwater popper known as the Pop'R. It's always rewarding when a plan comes together as in this case, I chose the lure as I wanted something that caused a commotion and stayed right in the bass' face. The right lure at the right time got the job done.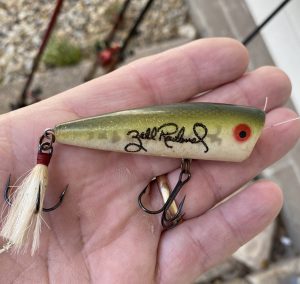 Rebel Pop'R Zell Rowland Model, fun to put an old lure to work and land a couple good ones 
Some ups and downs on The Canal for the month but a few more quality catches added to the 2021 Hennepin haul. It's been a fun few months of exploring and I hope to make a few more casts on the waterway before the fishing year ends. However, it is my understanding that the leaves on the water become a hindrance as they begin to fall. Only one way to find out. Talk to you later. Troy