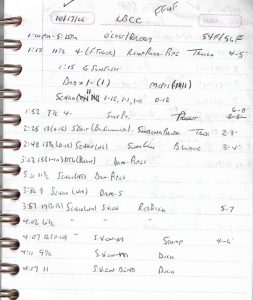 As the 2006 fishing season was nearing the end, I was in search of what I called "Bass #2000". This quest began at the outset of the 1997 season, shortly after I obtained my first personal computer. With the computer available for data entry, I decided a return to meticulous record keeping for my fishing was in order. So, from March 21, 1997, up until this October 17, 2006 trip, I had landed 1,971 bass. Therefore, going into this Lake Bracken outing, I needed 29 bass to reach the 2,000 bass mark. On the heels of that somewhat rambling intro, let's flash back.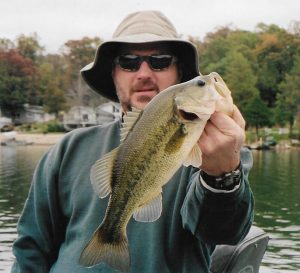 3:03pm – 15″ and 1-10 on a Rapala DT6 crankbait
Originally posted 11-4-06 as part of "Quest for 2000"
October 17 – Though the weather wasn't exactly stellar, I had an opportunity to get on the water for an afternoon and chose Lake Bracken for my destination. As luck would have it, 29 bass were landed in just over four hours on the water. However, my celebration would have to wait as Dad landed seventeen of the bass. My twelve bass put me within seventeen of the goal but the likelihood of more fishing trips with favorable conditions seemed slim at best for the remainder of the year. I did manage to land Top Bass of the day with a 2-13 on a Senko (watermelon) as well as a 1-10 on a Rapala DT 6 crankbait (parrot). Dad also posted a pair of record book entries with a 1-12 and a 1-11 on a Senko (black). Senkos caught most of our fish though we did have some success with crankbaits and a Mepps.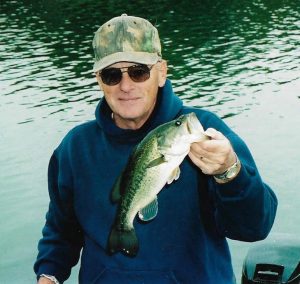 1-11 on a Senko wacky rig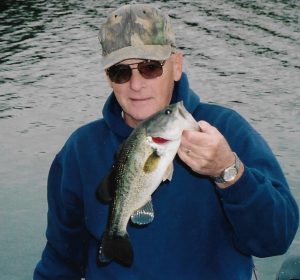 1-12 on a Senko wacky rig
Stats
Date: October 17, 2006
Location: Lake Bracken – Knox County, IL
Time: 1:10pm-5:25pm
Weather: Overcast/breezy
Air Temp: 54F
Water Temp: 56F
Totals: 29 bass (Dad – 17, Troy – 12)
Lures: Senko wacky rig (watermelon or black) – 20 bass, Mepps – 4 bass, 4- crankbait (firetiger) – 2 bass, Mann's Baby 1- crankbait – 1 bass, Rapala DT6 crankbait (parrot) – 1 bass, Blue Glimmer spinnerbait – 1 bass
Top Bass: 2-13 (Troy – Senko)
Top 5 Weight: 8-15 (2-13,1-12,1-11,1-10,1-1)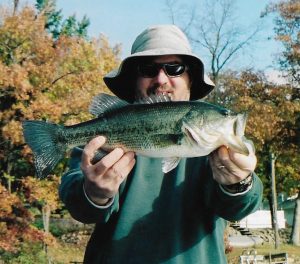 3:57pm Top Bass at 19″ and 2-13 on a Senko wacky rig
A good day on the water even though I fell short in my search for the 29 bass needed to reach 2000. However, Friday Flashback isn't quite done for the year. Just saying. Talk to you later. Troy