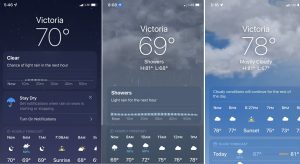 I set out last Sunday with the Snakeden Hollow shutdown only a week away, my Top 5 lacking fifteen ounces from reaching the 20-pound mark and limited days remaining to get on the water. Crunch time if I've ever seen it and throw in a stormy morning that wasn't in the forecast. Brent and I met at one of the lots at 6:30am and proceeded to wait out the rain. Read on to see how it all worked out.
Stats
Date: October 10, 2021
Location: Snakeden Hollow (4 lakes)
Time: 6:35am-6:16pm (5.25 hours fishing, the rest waiting and walking)
Weather: Overcast/rain/breezy to partly cloudy/breezy
Air Temp: 69-78F
Water Temp: no reading
Totals: 27 bass
Lures: Chatterbait (white) with twin tail trailer (salt and pepper) – 16 bass, Berkley Havoc Pit Boss (green pumpkin) – 4 bass, Strike King Red Eye Shad (orange craw) – 4 bass, Buzzbait (black) – 1 bass Senko wacky rig (green pumpkin/crème laminate) – 1 bass, Strike King Rattling Squarebill crankbait (sext shad) – 1 bass
Top Bass: 4-4 (Buzzbait)
Top 5 Weight: 9-15 (4-4,1-12,1-10,1-3,1-2)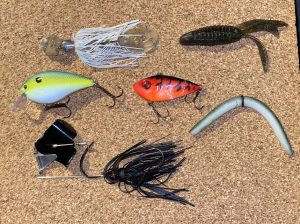 Winning Lures
Trip Lyric
"Ridin' the storm out"– REO Speedwagon
Notes and Nonsense
Meant To Be – Rain postponed our first casts for nearly two hours. Killing time found us scoping out the crowd (or lack thereof) at other area fishing holes and I wound up casting on a different lake than where I had intended to start. I lost a boat cushion and had to backtrack to find it further delaying my launch. No bites on some good-looking spinnerbait structure prompted me to switch to a buzzbait. Drifting into the middle of a featureless shallow bay, I fired out my second buzzbait cast to nothing in particular, just open water. With a less than sensational swirl, my buzzbait disappeared, I set the hook and it felt heavy. Once I had the bass aboard, I hollered to Brent that I might just have the fish I needed to make my 20-pound Top 5 limit. It would take a 4-4 to reach the mark and wouldn't you know it, right on the money.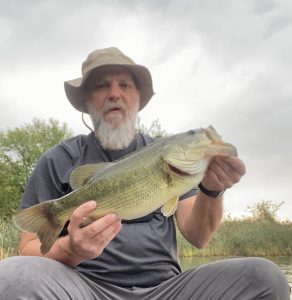 8:47am Top Bass 20.5″ and 4-4 on a buzzbait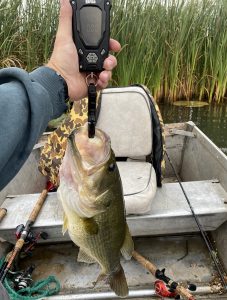 4.25 pounds on the scale, exactly what I needed. What are the odds?
Not Meant To Be – Just before switching to a buzzbait, the rain had begun, and I opted for my sweatshirt over short sleeves. Being eager to cast, I disregarded the GoPro, leaving it under the sweatshirt. Therefore, I missed the strike, fight and landing of my Top Bass of the day. I did shoot the release, but it turns out the video was corrupted, so pictures are as good as it gets.
Second Storm – Another thunderstorm ran us off the lake with one bass apiece, my 4-4 and a 1-5 for Brent, after 40 minutes of casting. I chose to remain on site to wait out the weather while Brent headed for home and came back in the afternoon. While Brent was away I put in three and a half hours on two lakes, landing nine more bass with a 1-10 being the best.
Chatterbait Lake – Some Snakeden lakes do not have "real" names, so I have made up my own over the years. One of the latter, Dromedary Lake, has always been a prime spot for throwing a chatterbait. Chatterbaits are not my strong suit but you can bet I have one on when I hit this spot. Sure enough, I landed seventeen bass in an hour and a half with sixteen of them falling to a chatterbait. Unfortunately, all but two were under the 12" mark but I know some larger bass call the place home.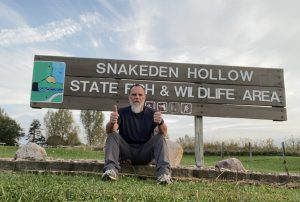 A long day with roughly twelve hours between arrival and departure but only five plus hours of fishing. Totals were boosted by the small bass catches on "Chatterbait Lake," but all were icing on the cake after the four-pounder to start the day and give me the boost I needed to reach the 20-pound mark for my Top 5. Talk to you later. Troy