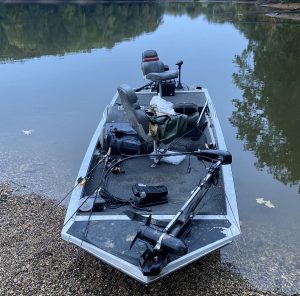 While I had a fair day on my latest Lake Storey outing (10/14), a follow-up post was necessary to cover the "extras" via some pictures and notes.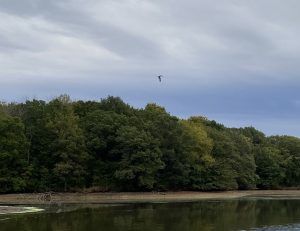 The picture above isn't the greatest, but it is a shot of a fellow fisher, an osprey, a regular sight for me over the years at Lake Storey. Another fellow fisherman, friend and Top 5 angler, John Kirkemo, was also on the water and reported observing the osprey with a fish in its talons.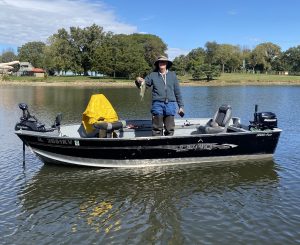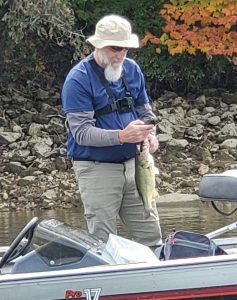 Speaking of John, he was able to get out on the lake that morning as well, thanks to some early rains delaying his outdoor household chores. We had a good chat mid-lake as John shared a catch with me and I just happened to catch my Top Bass of the day with John in proximity. Same thing happened in 2020, so not only good to visit but also good luck.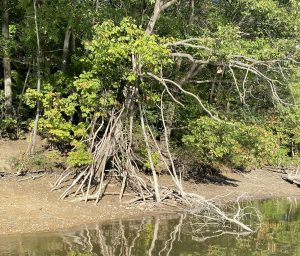 Perhaps the most interesting observation while on the water was an eerie structure reminiscent of what is termed a "Sasquatch tree structure." On one hand, the sight was a bit unsettling. On the other hand, I marveled at how bold of Bigfoot to construct it so near a campground and roadway. In retrospect, I should have beached the boat and scoured the area for tracks. I'm sure I would have found some and been left wondering why they call the creature "Bigfoot" and why would he wear Converse?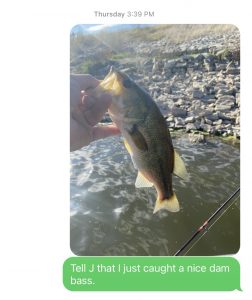 This summer, my son, Jayce, joined me and his Uncle Brent in chasing bass on Lake Storey. We had an enjoyable time, and each caught a bass (or two in the case of Brent). Particularly entertaining were a couple catches prompting us all to say, "that's a nice dam bass." Well, in nabbing another one along the water retention feature, I couldn't resist a text so Julie could inform Jayce that I fooled another dam bass.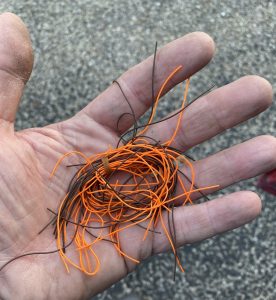 As I secured the boat at the ramp to end my day, a familiar looking color scheme caught my eye. There in the pea gravel lay an Emiquon Special spinnerbait skirt, just like Brent's legendary creation. Knowing that Brent respects nature and is not a litterer left me wondering who would do such a thing. Possibly someone who reads my blog and knows the prowess of such a color scheme in the hands of an adept angler. If you are the blog reader who left the item, knock it off, find a trash can or stuff in in your hip pocket next time. But thanks for reading.
I suppose that the opposite of the old saying "Go West, Young Man" would logically be "Go East, Old Man." Well, my normal spots on the west end of the lake had produced to the tune of one bass in three hours and that one came on my second cast. As a result, I expanded my search further east than normal, nearly to the opposite ramp. And what do you know, two keepers in a span of 35 minutes, a definite improvement.
That final anecdote is what the fishing part of a fishing outing is all about, figuring out the fish. But as you can see, there's always more to a fishing trip than just fishing. Talk to you later. Troy