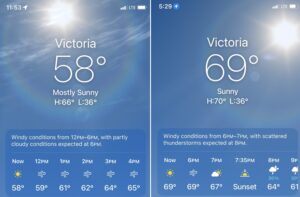 Pleasant temperatures, high winds and cloud cover are a good mix for one of my strip mine hikes. There was no way I wanted to be in a boat fighting the gusts, so bank prowling was the ticket. I opted for my second-tier lakes in terms of quality bites and the results reinforced why these spots are not on the "A-list."
Stats
Date: April 10, 2022
Location: Knox County, IL public strip pits (7 lakes)
Time: 12:00pm-5:20pm (4.00 hours fishing)
Weather: Sunny to overcast/very windy
Air Temp: 58-69F
Water Temp: not available
Totals: 38 bass
Lures: Rapala Shad Rap (shad) – 20 bass, Lunkerhunt Finesse Worm ¼ oz. (Bama craw) – 9 bass, Chatterbait (white) – 8 bass, Googan Gridiron jig (PB&J) – 1 bass
Top Bass: 1-0 Chatterbait
Top 5 Weight (only 3 at 12" or better): 2-9 (1-0,0-13,0-12)
Trip Lyric
"Everyone knows it's windy" – Windy, The Association (1967)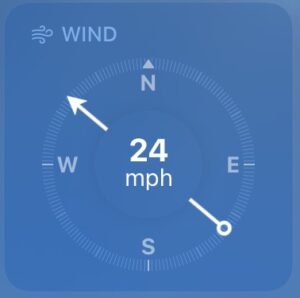 Notes and Nonsense
Blow Away, Blow Away, Blow Away – I always liked George Harrison's 1979 release, Blow Away, and it was certainly apt along with Windy. How windy was it? Well, the highest reading I saw on my weather app indicated 24mph, but gusts certainly exceeded that mark. Depending on the way I was facing, the wind would blow my lures (and some little bass) out of reach in one direction or wind up blowing the lure at me and having a hook or two snag my sweatshirt on occasion. Several times it also rocked me a bit as sloped, soft, and suspect strip mine terrain can make for precarious perches on the bank.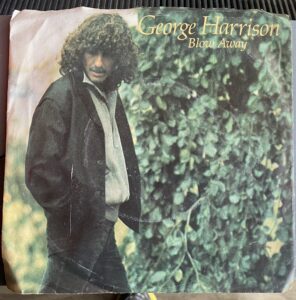 Always fun to add something from the collection, my 45 of a favorite from 1979
New Lure – After having several short strikes on a jig, I broke out a Lunker Hunt Finesse Worm to see if downsizing would get the short strikers. While the wind made it a challenge to maintain contact with the light lure, it was quite effective on one lake. Nearly every cast resulted in a hit and most of those little bass were caught on the smaller offering before I decided to relocate in hopes of better bites.
Craters – My final quest for quality bass was at a pair of potholes that I call "The Craters." My last visit to these spots was in 2017 and I was disappointed to find that the already challenging bank access was worse and even reaching the water was a chore due to thick brush. As the years roll on, I am beginning to mentally check off some waters as "not going back again," and these may have just made the list.
Record Book Update
As happens on more than a few occasions, I just couldn't find any good bites. Therefore, there is no record book update info to pass along.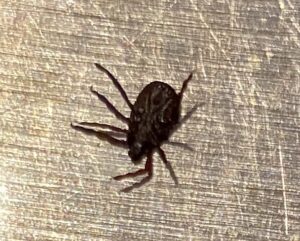 First one of these nasty critters found crawling on my neck as I sat on the couch upon returning home
Just one of those days where quantity is good, but quality is lacking. Such is fishing, better luck next time…or not. Stay tuned and talk to you later. Troy