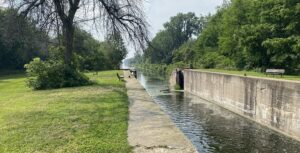 I kicked off my 2022 pursuit of bass at The Hennepin Canal with an impromptu outing on Good Friday. The way that the evening shook out allowed me a couple of hours to get away for some casts. Julie and Jayce were off to a birthday party, and I left the rest of the crew with a twenty-dollar bill to fend for their supper. So much for the quick ten-minute drive saving me money compared to my fuel expense for Knox County strip mine trips.
While the 2022 edition of "Prowl the Canal" reports will wait until the month is over, The Canal needs a shout out for my Record Book Roundup series.
First up, a little background regarding my experience on the historic waterway. My first casts on The Canal took place late last spring and I would make a total of seventeen visits over the course of the year. These visits covered ten separate locations ranging from Colona to Wyanet spanning 6/5/21 to 10/31/21.
I was pleasantly surprised with the results and look forward to seeing what 2022 holds in store. My internet prowling also found a reliable recent report of a five-pounder from a stretch of The Canal that I am familiar with but haven't fished yet. Such would be a great fish anywhere but a true trophy on The Canal.
But first things first with the goals to shoot for as 2022 progresses.
Hennepin Canal (2021-present)
Top Bass: 3-6 Troy Jackson 7/21/21 Plastic Worm
Best Top 5 Day (only 4 bass at 12" or better): 9-4 (3-6,2-10,2-0,1-4) 7/21/21 in 2.25 hours
Top 5 Weight: 15-6 (3-6,3-4,3-1,2-14,2-13)
Good luck out there and if you wish to contribute to the Top 5 project, you can email your catches to troy@troyjacksonoutdoors.com. A photo must accompany the submission and see the template below for further details. Talk to you later. Troy
Weight: Nearest quarter ounce or better depending on your scale
Angler: Up to you whether actual name or pseudonym
Date: Always good to have an accurate date for monthly stat updates
Weather: Bonus info, up to you
Water Temp: Bonus info, up to you
Location: Site is nice but "Illinois public water" works if not willing to reveal
Lure: Always like to hear what's working but up to you
Structure: Bonus info, up to you
Angler Comments: I enjoy the fish story, keep it clean for this family friendly blog
Top 5 Weight: I will keep track as you post and update the weight accordingly