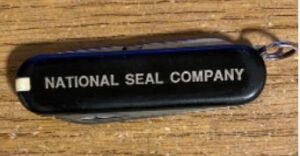 Twenty-five years ago, I was earning a paycheck at National Seal Company in Galesburg, IL with an enjoyable and entertaining crew of friends and co-workers. Today's post comes from a trip with a couple of those guys, Steve Cummings, and Scott Woods. I met Steve through work, while I had known Scott since we were kids as our dads played a fair amount of softball together in the 1970s.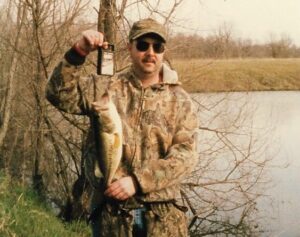 April 21, 1997 – Steve Cummings at one of Woody's Ponds with a 3-6 bass
"Woody" was a fisherman and while swapping fish stories at work he invited me to take a trip to his grandparents' farm ponds down around where Schuyler, Hancock, and Adams County meet. The exact location escapes me, but I recall it being south of Augusta and in the general vicinity of the Golden/La Prairie metropolitan area. You know, kind of east of Bigneck.
There were several ponds and an old farmhouse where we stayed on one occasion. I do not recall it having electricity, nor functioning plumbing but what did we care? We had coolers, ice and beer and the house provided a place to crash during an overnight, so all was good.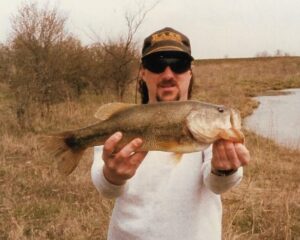 April 21, 1997 – a 3-6 bass from one of Woody's Ponds
For grub, we would head over to a little diner in Golden, IL via grassy lanes that I suspect may have been impassable during inclement weather. And when I say lanes, I'm talking two ruts divided by grass, and somebody had to pull aside if two vehicles approached from different directions. Fortunately, and not surprisingly, we never encountered another vehicle off the beaten path. At the diner, several older ladies prepped and served food and I swear it was like going to dinner at your grandma's. They doted over us guys and we left plenty full from a good, old homecooked meal.
And yes, the fishing holes were impressive. The pictures from this trip show that our largest bass were 4-10, 3-6 and 3-6. On another visit, me and Woody fooled a 4-4, 4-1 and 3-10 and I also managed a 5-8 on a separate outing. However, the Top Bass was a seven-pounder Woody landed in the mid-90s. Gotta love farm ponds.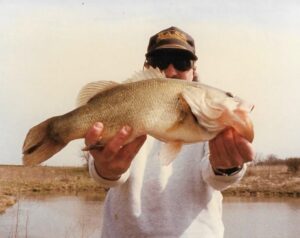 April 21, 1997 – a 4-10 from one of Woody's Ponds
Much has changed in the twenty-five years since this trip. National Seal Company has been gone from Galesburg for over twenty years, Woody's grandparents have passed, and I believe, the farm has sold. And I haven't seen those guys in years. Time marches on but those old fish stories remain. Talk to you later. Troy