Along with the numbers, each trip on The Canal offers up some new knowledge. I caught my first ever Canal bass on June 5, 2021, so I have only one year of experience on the historic waterway. As such, there is plenty to learn, and each new day provides further insight into this interesting collection of fishing holes.
Lessons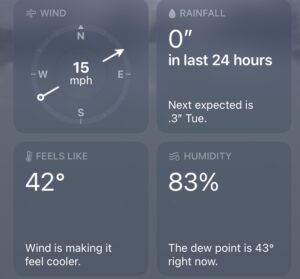 May 1 – This year's ever present winds made for windchill on May Day, but still caught some bass
2022 has been as windy a year as I can recall, and The Canal provides a good destination under most winds. On the sections I have fished, at least one side of the roughly 90' wide canal features timber to serve as a wind block. With the proliferation of pools, you can usually plan your trip to avoid contending with the wind.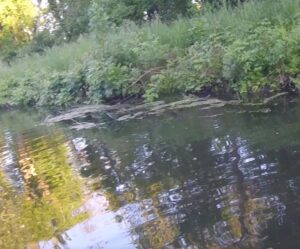 May 27- Doesn't look like much but on sparse structure sections of The Canal, work them over (produced a 2-12)
Keep an open mind on the pools as one has surprised me. Initially, I viewed a lack of visible shoreline structure as a negative. However, it turns out that those limited ambush points are prime real estate when it comes to finding some quality bites.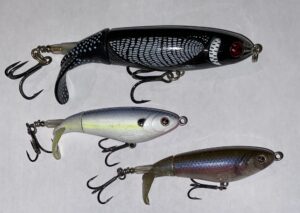 Internet reports show that I need to break out my Whopper Ploppers on The Canal so stay tuned…
Last month I mentioned prowling The Canal on the internet when you are unable to prowl in person. The lesson here is that I need to get more familiar with my Whopper Ploppers.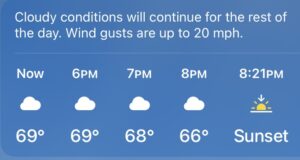 May 24 – Like a broken record with the darned wind in 2022
The wind has more of an effect than the current in most of the locations that I have visited. However, I did encounter a section that was crystal clear on one bank but stained on the other. I do not know if this is a factor of the current, but it was interesting to find that the section fished like two different pools despite being separated by less than ninety feet.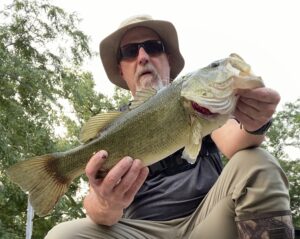 This 3-6 from July 21, 2021 is my Canal Top Bass, looking to break the record in 2022 as I search for a four-pounder
I guess that this is not so much a lesson as a goal. Currently, my Top Bass for The Canal sits at 3-6. My quest involves finding a four-pounder. A four-pounder is a good fish anywhere. But on The Canal, I feel it is even more special. I've seen pictures of a few that would qualify and others that look close, although the anglers did not include weights. Best of all, I recognize some of the scenery behind the anglers and their fish in the photos.
Did I mention that May continued a windy 2022?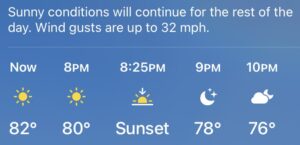 May 29 – 32 mph gusts, are you kidding me?
Time will tell what June holds in store, but my plan remains to spend more time on The Canal as my regular stomping grounds involve a larger investment in gas money. I have come to enjoy my time on these new waters and look forward to further exploration and education. Stay tuned for more monthly "Prowl the Canal" updates and more as the year progresses. Talk to you later. Troy