Last weekend, Brent and I got together for the first time since mid-May for a hike into the Knox County public strip mines. As expected, the terrestrial vegetation was tall and thick, making for a tough walk between fishing holes. On the flip side, aquatic vegetation was sparse and most of the waters were low which made for good conditions once we reached the banks. Great weather conditions were also a winner, and the bass were gracious. Seemed like they had missed us.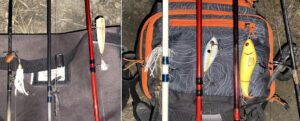 Starting lineup lures – Brent (left), Troy (right)
Stats
Date: September 4, 2022
Location: Knox County, IL public strip pits (6 lakes)
Time: 6:15am-1:30pm (5.00 hours fishing, the rest walking)
Weather: Overcast/breezy
Air Temp: 66-69F
Water Temp: not available
Totals: 73 bass (Brent – 44, Troy – 29) 1 green sunfish (Brent)
Lures (Troy): 5" Senko wacky rig (natural shad) – 17 bass, Chatterbait (white) with Zako trailer (Tennessee Shad) – 8 bass, Whopper Plopper 110 (bone) – 1 bass, Rebel Pop R (rainbow) – 1 bass, Strike King Red Eye Shad (sexy shad) – 1 bass, Special K Spinnerbait (bleeding shiner) with Zoom Creepy Crawler trailer (root beer/pepper/green) – 1 bass
Lures (Brent): Senko wacky rig – 16 bass, Mann's Chug n' Spit Popper – 15 bass, Spinnerbait (white) – 13 bass
Top Bass: 3-10 Senko
Top 5 Weight: 14-5 (3-10,2-14,2-12,2-10,2-7)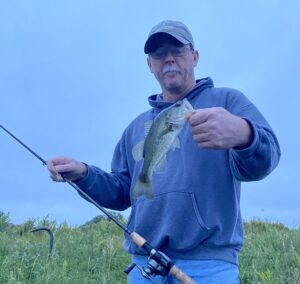 6:25am – first bass of our morning (took a bit, but they got a lot bigger)
Notes and Nonsense
Quote of the Day – "I heard the tape measure"
I had to laugh when Brent made this statement. While we were fishing less than fifty yards apart, the weeds were so high that you couldn't see a fellow angler fifty feet away. Brent said that he knew I had landed a bass by the telltale sound of measuring my fish.
Old school Mann's bait was a winner for Brent on this outing
Vintage VIP (Very Important Popper) – Previous reports this summer from Brent noted "popper" for several his catches. This lure designation represented a departure from his regular summer repertoire of a spinnerbait, buzzbait, and Senko. He's not one to add a whole lot of new lures to his tacklebag so I asked him for further details as we stood on the bank at our final stop. After saying, "It's just a popper," I asked if it had any info on the lure. He responded, "Mann's" and I thought this one could go back a ways. Upon closer inspection, Brent added, "It says Chug-N-Spit." As I put this post together, I did a little research on the lure and not surprisingly found that it is no longer in production. While I could not find any production dates, my internet wanderings found numerous listings referring to the lure as "vintage."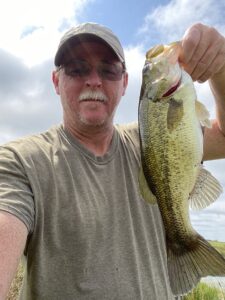 12:05pm – Brent with a new lake record at 1-11 on his popper from K9 Lake
New Lake Record – An ill-advised cross-country route on the way out made for a lot more wading through the weeds than I had envisioned. Following a couple bad directional decisions on my part, we wound up taking a break and fishing a lake that wasn't on our original agenda. Turns out, Brent established a new lake record with a 1-11 on his popper topping a 1-9 I had landed in 2020.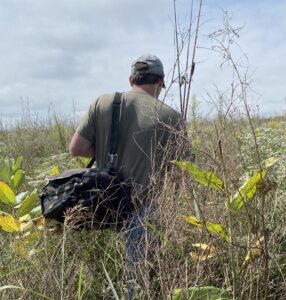 Getting to the bass takes some work…
New Top 5 Entries – I have records compiled for every lake that we've fished in the Victoria area strip mines. I find it fun to see if we can boost the Top 5 Weight for any of the lakes we fish. While we are not going to break the "lake record" each time out, the prospect of catching a fish to boost the all-time Top 5 weight on a body of water makes for an additional gauge of success. On this outing, we managed to land half a dozen bass that boosted our Top 5 Totals on four different lakes. The record book wrap-up will come later this year after the strip mines close but certainly a good day on the water.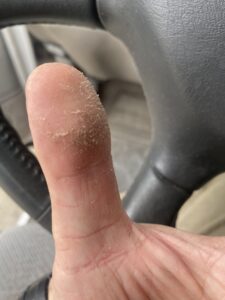 …but "bass thumb" proves the walk is worth it.
One more post from this trip is headed your way. During the outing, I provided regular updates as we compiled and boosted the Top 5 Weight for the day. Next up, is a chronological look at those catches. Talk to you later. Troy