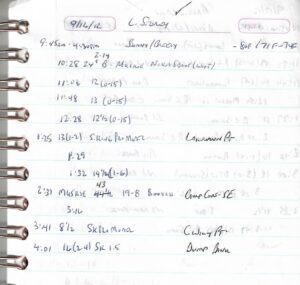 For many years, we have fished the Lake Storey drawdown. The drawdown drops the lake level as a fishery management practice. The benefits of the process are a topic for another time but suffice to say, it can trigger good fishing if you catch it right. Today's flashback covers a day with the highest high and lowest low in a full day of Lake Storey casting.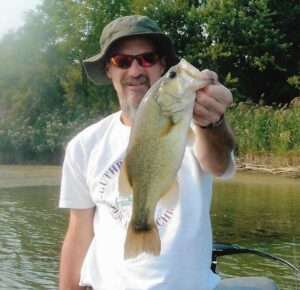 4:01pm – Top Bass at 2-4 (16″) on a crankbait
Excerpts from original 9/20/12 post
Stats
Date: September 16, 2012
Location: Lake Storey
Time: 9:45am-4:30pm
Weather: Sunny/breezy
Air Temp: 70-80F
Water Temp: 71-74F
Totals: 9 bass, 2 muskies (Troy – 3 bass & 1 muskie, Brent – 6 bass & 1 muskie)
Lures: Ninja Spinnerbait (white) – 6 bass & 1 muskie, Strike King Pro Model crankbait (sexy shad) – 2 bass, Strike King KVD Rattling Square Bill crankbait (sexy ghost minnow) – 1 bass, Booyah Counterstrike spinnerbait – 1 muskie
Top Bass: 2-4 (Troy – Strike King KVD Rattling Square Bill crankbait)
Top 5 Bass Weight: 6-10 (2-4, 1-6, 1-2, 0-15, 0-15)
Notes and Nonsense
Tough Water – You just never know what hand Lake Storey will deal, even during the drawdown when the predators are more apt to let their guard down. Twenty-five or thirty bass days can happen but realistically, I'm looking for about half that many on a full six- or eight-hour day of casting and I'm usually looking at one to three "good ones" (my term for two pounds or better). Sometimes we win, sometimes the fish do but that's all part of trying to effectively decipher the puzzle each time out. As such, our nine bass were about what was expected although I anticipated a bit heavier Top Five Weight. I'm always pleased with more, but such is the pursuit and I'll keep coming back for more when the opportunity arises as I love the challenge of that place.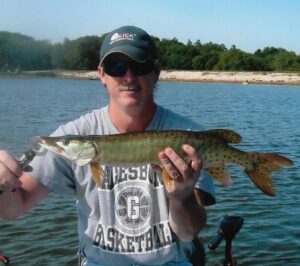 10:28am – First catch of the day was a toothy fish on a spinnerbait
Teeth – One of the appealing factors of fall fishing at Lake Storey is the chance that a walleye and/or muskie will make a mistake for us bass fishermen. About twenty-five minutes into our outing, Brent let out a "Whoa!" in response to an interested low thirty-inch muskie following his Emiquon Special spinnerbait. When later relating our trip to Dad, he asked, "Did you figure eight?" to which Brent responded, "No, it scared me." Renowned muskie anglers, we are not. However, a few minutes later Brent landed the muskie pictured above to get us on the board after switching gears to a white spinnerbait.
A Couple Big Mistakes – The first big mistake was made around lunchtime by a fish that was heavy and excitable upon feeling the trebles of a Strike King KVD Rattling Squarebill crankbait. My first inclination was that I'd snagged a big old carp until it surfaced, and we saw that it was incredibly longer, and had teeth. I fought the biggest muskie we'd ever seen for several minutes with Brent having to duck my line and me walking from front to back to front to middle of the boat as the beast made line striping runs and one spectacular water clearing leap while giving my six-foot rod spooled with twelve-pound monofilament all it could handle. The second mistake occurred as the muskie came boatside and I advised my net man to hold off on attempting a dip as the fish certainly exceeded the normal size of catch for our tool. Bad, bad move on my part as a subsequent headshake must have been just enough to cut the line and our fish was gone. I was bummed but occasionally able to still cling to the hope that something good was still to come…and it did.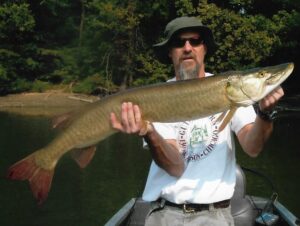 2:31pm – Got a second chance after a disappointing "one that got away"
The rest of the story has been told before on the blog as "A Tale of Two Muskies" (click here). For today, the abridged version is that it about made me sick to lose that massive fish at boatside. I still think about it to this day. But all you can do is keep on casting. That's what we did and later in the afternoon I landed what is still my largest muskie. The 43", near twenty-pound fish certainly eased the heartbreak but I can't help but think of what might have been as the lost fish was considerably stouter. Ten years later, I can only dream of the day where I nearly caught over forty pounds of muskie.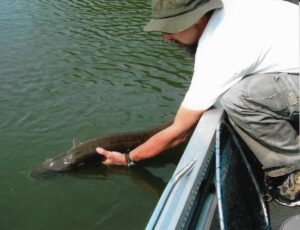 Releasing the one that didn't get away so it could grow up
Talk to you later. Troy