A return trip to a public strip pit that had produced very well in May, found the water in a late spring/early summer aquatic vegetation boom. Combined with other conditions described below, this made for some trial and error to find a winning presentation. Read on for a morning on the water that I refer to as "work harder, feel smarter."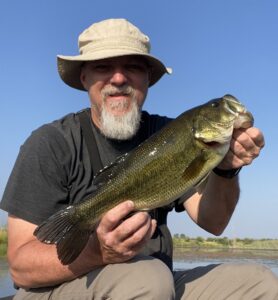 7:46am – Top Bass at 3-2 (18.5″) on a Senko wacky rig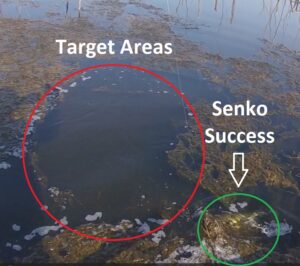 Winning pattern – read on for the details
Stats
Date: June 24
Location: Knox County public strip mine
Time: 5:40am-10:10am
Totals: 10 bass, 1 bluegill
Weather: Sunny/breezy
Lure: 5" Yamasenko wacky rig (natural shad) – 10 bass, 1 bluegill
Top Bass: 3-2 Senko
Top 5 Weight: 13-5 (3-2,2-12,2-11,2-6,2-6)
Notes and Nonsense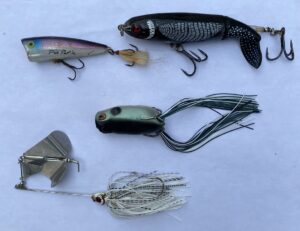 Plan A (Topwater) – With an hour drive, it is tough for me to get on the water before sunup this time of the year, even when I get up at 3:43am. The bright sunny morning did not provide a prime window for an early bite, but I am stubborn, and force fed the bass an offering of a buzzbait, Whopper Plopper, Pop R, and frog, anyway. Some days you can still get a few in these conditions early or late but on this day, I could not muster a single strike.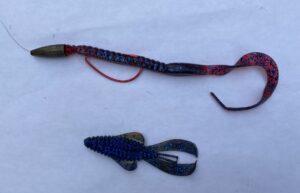 Plan B (Texas rigged plastics) – In the early 1980s when I first started thinking I was a bass fisherman, I used to throw a lot of Texas rigged plastic worms. As time moved on, I also added plastic creature type baits to my arsenal. Nowadays, I hardly ever slow down unless the fish ignore my faster, noisier presentations such as the topwater approach in Plan A. Well, the bass were not interested in Plan B either, so what to do next?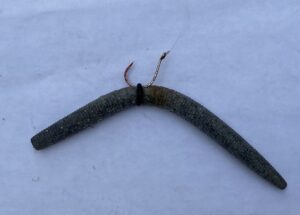 Plan C (Senko wacky rig) – The lake that I was fishing was roughly 75% covered in surface vegetation. Among that weedy percentage, close to half of it was too shallow as the water level was low from our lack of rain. Now, it doesn't take much water to hold a bass, but their backs would have been getting sunburn in these shallows. To complicate matters further, about 50% of the deeper, open water areas were stained with an ugly brown tint. As the morning unfolded, I found a few in the ugly water before resorting to finding larger bass in smaller, open pockets with clearer water. These open pockets ranged in size from smaller than the on-deck circle to maybe as big as the free throw lane. Such a tactic would produce all ten of my catches and I visually observed several of the bass dart out of the peripheral walls of weeds to grab the Senko.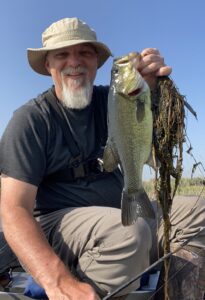 With the bass in the weeds, some catches come aboard with "salad"
So, what can be learned from today's fish story? For starters, the bass will tell you what they want, or don't. On those fortunate days when you and the bass are in synch, you can stick to your approach and reel them in until the fish change moods. Such days make you feel smart. But it's the days when I must work a little harder that make me feel smarter. Talk to you later. Troy