While at a family lunch get together, my brother, Brent, and I cooked up a plan for an evening fishing trip. I'd already spent four and a half hours on the water to begin the day but there's no such thing as too much fishing. So, off we headed to Little John Conservation Club with just over two hours on the clock to fish.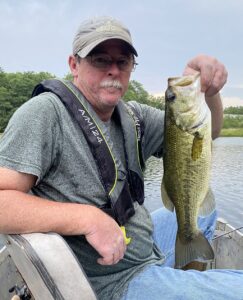 8:18pm – Top Bass at 2-0 (16″) on a Senko
Stats
Date: June 24, 2023
Location: Little John Conservation Club (2 lakes)
Time: 6:40pm-8:50pm (2.00 hours fishing)
Weather: Partly cloudy/breezy
Air Temp: 91-85F
Water Temp: not available
Totals: 8 bass (Troy -5, Brent – 3)
Lures (Troy): 5" Yamasenko wacky rig (natural shad) – 3 bass, Booyah Buzz Buzzbait (white) – 2 bass
Lures (Brent): 5" Yamamoto Senko wacky rig – 2 bass, Mann's Ghost topwater (chartreuse) – 1 bass
Top Bass: 2-0 (Brent)
Top 5 Weight: 7-5 (2-0,1-11,1-8,1-1,1-1)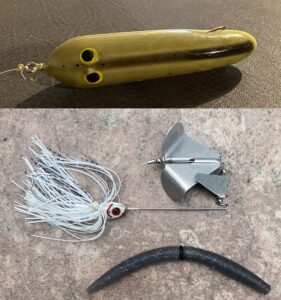 Winning Lures
Notes and Nonsense
Guiding The Ghost – The clip below features Brent fooling his Top Bass of the outing at 1-11 on a hollow bodied topwater lure known as The Ghost from Mann's Bait Company. The lure itself deserves a story but for now that aspect will reside in the "one of these days" files. Obviously, Brent knows what he is doing but, in this case, as I was on rowing duty, I positioned the boat and said, "Maybe hit that other pocket…" A missed strike and a follow-up cast later he had a bass. So, it appears that while I cannot physically land a bass on a frog type lure myself, I can guide others to a catch. Perhaps I need to comb through my 1980s tackle archives to see if I can find an old Mann's Ghost before I continue searching for a slop bass bite.
Low Water I – The dry year has had a noticeable effect on the smaller bodies of water that I fish. Former shallows are now nearly devoid of water and areas that once held a few feet of water have become solid weed mats, humps are exposed, and underwater points are shoreline. While such conditions dictate shifting gears from tried-and-true areas and presentations, they also afford a chance to learn.
Low Water II – As noted above, the low water conditions offer an excellent chance to expand your knowledge of any body of water. If you have access to any ponds or strip pits, this is prime time to get out there and roam as it can provide unprecedented shoreline access. In many instances, ledges and flats are now exposed allowing you to walk around to areas that were once tough to get to or entirely inaccessible. Shoreline cover is laid bare and offshore targets may be revealed. Pull on your boots, jot down notes, shoot pics and videos, try some new presentations, and learn. You cannot predict the weather and never know when you may get such an opportunity again.
No big bites but always fun to take a shot at Little John, especially as I had neglected the area completely in 2022 for whatever reasons. In addition, Brent is not a member, so it is good to have him along to try his luck. Not only do I enjoy the company but also having a skilled partner in the boat means an additional lure/presentation in the water. With only a couple of hours of daylight, we did a run and gun with a quick lap around two lakes and managed to find a few. Less than a week later, we were back in the little boat together again. But that's another fish story. Stay tuned and talk to you later. Troy