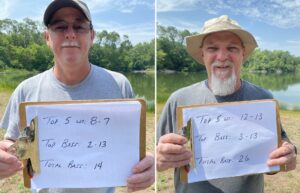 Pre-casting predictions
To end June, I took a half day off work to visit an old fishing hole with a longtime fishing partner. The significance of the trip taking place on June 30, is that it would mark twenty years to the day since the last time I made a cast on these waters. The name of the West Central Illinois public water will remain a mystery for now. If the backdrop in the pictures and clips look familiar, perhaps you already know. Read on for the results and notes.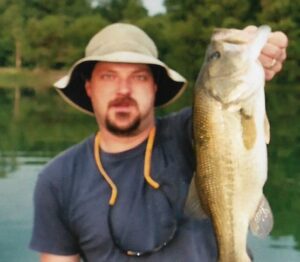 June 30, 2003 – twenty years since my last visit to this fishing hole
Stats
Date: June 30, 2023
Location: West Central Illinois public water
Time: 2:50pm-8:50pm
Weather: Sunny/calm to breezy
Air Temp: 85-65F
Water Temp: not available
Totals: 19 bass (Brent – 11, Troy – 8)
Lures (Troy): 5" Yamasenko wacky rig weighted (natural shad) – 5 bass, 7.5" Yum Ribbontail Worm (plum) – 3 bass
Lures (Brent): Senko or Yum Dinger wacky rig – 6 bass, Mann's Chug-N-Spit Popper – 5 bass 
Top Bass: 3-2 Plastic Worm (Troy)
Top 5 Weight: 12-2 (3-2,2-10,2-10,2-4,1-8)
7:03pm – Top Bass at 3-2 (18.5″) on plastic worm
Notes and Nonsense
Background – I fished in these waters as far back as the late 1980s and as noted in the intro, my last visit was June 30, 2003. Fast forward to a discussion with my friend and fellow Top 5 angler, John Kirkemo a couple of years ago where the location came up as a suggested destination. Lucky for me, John took a scouting trip or two and provided impressive feedback including a 15-11 Top 5 (4-2,3-5,2-14,2-11,2-11) from June 13, 2022. My personal Top 5 covering data from May 4, 1989, through June 30, 2003, tipped the scales at 10-1 with a Top Bass of 3-8.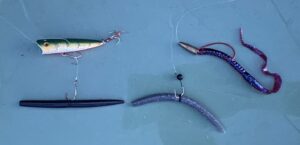 Winning Lures
Texas Rig – Two and a half hours into our outing, Brent and I had nine bass in the log, all on a Senko wacky rig. However, only two were "keepers" for a combined weight of 3-7 (2-10,0-13). At that point, I elected to add a Texas-rigged worm to my presentations, a setup that was a mainstay in my arsenal in the 1980s and 1990s. For various reasons, I moved away from such a presentation, primarily using creature type baits for Texas-rigged setups, and relying heavily on a Senko wacky rig as my plastic worm approach. Upon making the change, I was able to end a drought of over an hour without a bite in landing a 2-4 on my Yum Ribbontail worm. The Top Bass of the trip would later fall to the same lure, weighing 3-2 and landed at just after 7:00pm.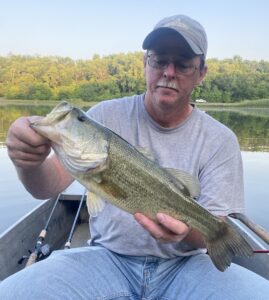 7:55pm – Vintage Chug-N-Spit still gets the job done at 2-10 (18″)
Chug-N-Spit – While my worm presentation represented an old school technique that I have neglected for many years, Brent did me one better with one of his choices. A Texas-rigged worm is no rarity among anglers, but I suspect that Brent's old Mann's Chug-N-Spit topwater popper is not a mainstay in very many tackleboxes. Not because it doesn't work, but more because it may qualify as an antique and is no longer on the market. A quick internet search did not produce any details on the sales life of the Chug-N-Spit but when referred to as "vintage" among the search results, it is an oldie.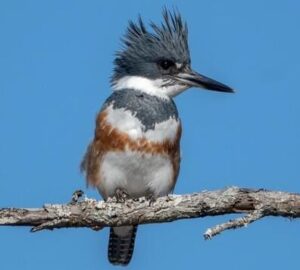 Fellow Fisher – The belted kingfisher is a cool bird in appearance, call, and habit. If you hang around the water long enough, you will encounter these birds that make a living out of fishing. Sometimes they give themselves away with their rattling call while other times you may spot them first on a shoreline dead limb surveying the fishing hole. Even better is when you observe one swooping down and grabbing a meal with a splash. Well, we heard and saw all the above in addition to a new kingfisher trick, swooping down on a lure. As shown in the video clip below, luck was on our side as the kingfisher opted not to nab Brent's lure, allowing our intended quarry to get the Chug-N-Spit instead.
Guessing Game – For several years, when I get together with Brent or a few other anglers for a full day of fishing, I solicit predictions prior to making our first casts. Most spots where we are fishing, there is some history behind our guesses. But on this spot we had only John Kirkemo's input as we had not been on the water for twenty years. John's Top 5 day of 15-11 was a tall order and our predictions reflected such with Brent guessing 8-7 while I was a little more optimistic with my 12-13 guesstimation. We also post our guesses for overall Top Bass and a combined catch total. When all was said and done, Brent came closest on Top Bass and Total Bass while I took the Top 5 prediction.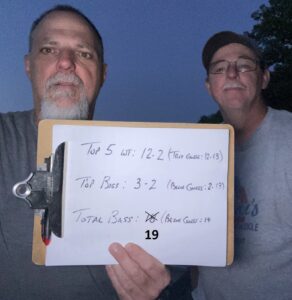 Final Results
It's tough to beat a day on the water with my brother and even better when there is a little something extra with the Twenty Year Anniversary aspect. Once again, a big thank you to John Kirkemo for the incentive to get on the water. Add a pat on the back to me for coming up with the idea to revisit on the twentieth anniversary of my last casts on the water. Throw in a thumbs up to Brent, me, and our employers for time away from work. Finally, a nod to the bass for cooperating and the IDNR for their efforts in restoring a lake that has experienced population challenges over the years. Glad we were able to take our shot and suspect that I won't wait another twenty years before I try it again. Talk to you later. Troy