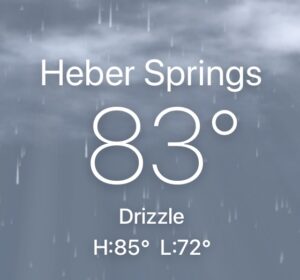 Work took me to north central Arkansas earlier this month for a few days. As I was traveling solo, I packed some fishing gear alongside a bunch of IT equipment for the trip. Previous work drives had allowed me to spend a few hours casting in Kansas, Texas, New York, and southern Illinois with the aim of landing a bass. Each of those prior trips were successful but Arkansas still owes me a bass.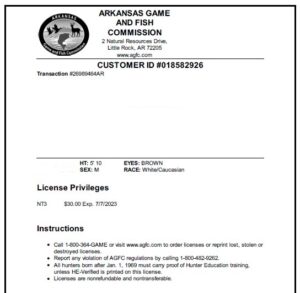 Investment – Before setting out, I went online to obtain the $30 three-day non-resident permit to make sure that I was legal. I also picked up a few new lures during a stop at an Arkansas shop, a Storm Chug Bug, a Strike King KVD Sexy Dawg, and a couple packs of Yum Dingers (the latter as souvenirs for the family to use later).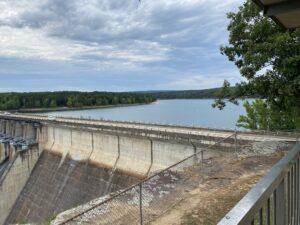 Greer's Ferry Lake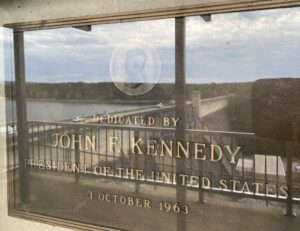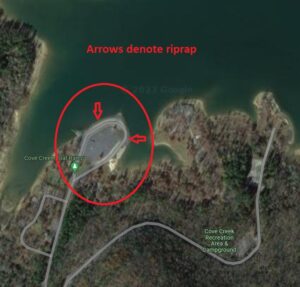 My first choice of spots did not work out as noted below
Greer's Ferry – My work destination was Heber Springs which lies right on Greer's Ferry Lake. Listed at just over 40,000 acres, I did some advance research to find a couple access areas that I thought would be worth a visit. Unfortunately, I got lost looking for a spot called Cove Creek Boat Ramp (may have been closed). In addition, there was a $5 access fee that I was unwilling to pay with only thirty minutes of daylight at the end of a long day (left Illinois at 3:15am, worked from 1:30pm-6:30pm). The next evening, I got a little earlier start after working from 6:30am-5:30pm but once again was not into paying an access fee for an hour of fishing. Instead, I parked in a boat launch parking area and fooled around for a bit without a bite. Conditions were tough with clear water, low lake levels, steep drops, and barren rock bottom.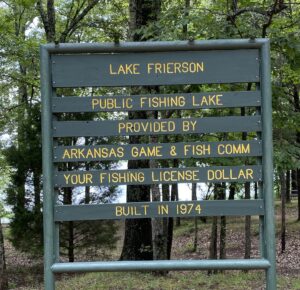 Frierson Lake (335 acres) – On my last day, I worked from 7:00am-10:30am before heading out for a nine-hour drive home. I went a bit out of my way to hit Frierson Lake north of Jonesboro. It was more to my liking in terms of size and water clarity. The tough part was a batch flooded emergent vegetation that ringed most of the bank access. In addition, sunny skies at just after noon did not put the odds in my favor. In about forty-five minutes of casting, I failed to manage a bite. While disappointed, I felt that this smaller lake was more in tune with a solid shot at fooling a bass. A stop at the Visitor Center on my way out reinforced that some quality bass call the water home, including a ten-pound lake record.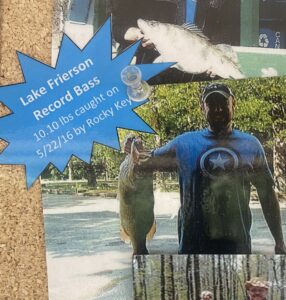 Maybe Next Time – Near Corning, Arkansas were two more spots that I had on my radar, but I ran out of time. Victory Lake and Mom's Lake will have to wait for another day should I find myself headed back to work in "The Natural State."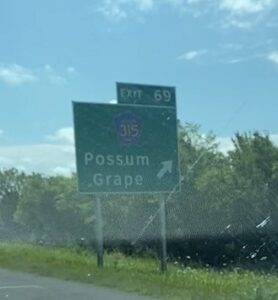 Possum Grape – I spotted the road sign above and was left wondering if "Possum" and "Grape" were two separate places or if "Possum Grape" was one place. A little internet research revealed the latter and per a map, Possum Grape lies somewhere in the vicinity of Goat Neck Lodge and Nuckles Switch Cemetery.
And there you have it, a fishing report minus a fish. Not sure if/when I will be back in Arkansas, but I will have a better plan should it happen. Talk to you later. Troy