Having a short window to make a few casts on The Canal, I decided to stick to my roots. Back in the summer of 2021 when I first started fishing the waterway, I relied on pedal power to do my exploring. And exploring was my intent on this outing as I wanted to check the weeds and water level on a particular stretch. Oh yeah, I was also hoping to catch a bass or two. Read on to see how it all turned out.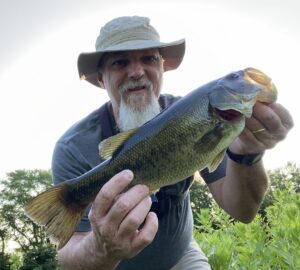 7:02 – First bass on second cast of the evening 2-3 (16.5″) on a Texas rigged worm
Stats
Date: July 18
Location: Hennepin Canal
Time: 7:00pm-8:15pm
Totals: 3 bass
Weather: Hazy/calm, 75-70F
Lures: 7.5" Yum Ribbontail Worm (plum) – 2 bass, Spro Flappin Frog 65 (albino) – 1 bass
Top Bass: 2-5 Plastic Worm
Top 3 Weight (only 3 at 12" or better): 5-9 (2-5,2-3,1-1)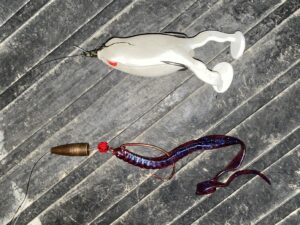 Winning Lures
Notes and Nonsense
The Plan – As noted in the intro, I had a stretch that I wanted to get eyes on for a potential boat trip in the future. A seven-minute bike ride not only allowed me to observe the conditions but also provided a productive pool at my turnaround. At the fishing destination, I intended to rely heavily on a Texas rigged plastic worm along deep weed edges and a trough in the Canal channel.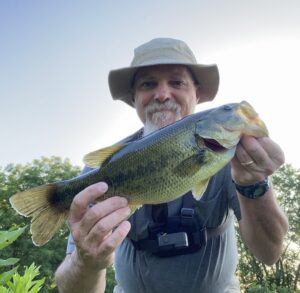 7:20 pm – Top Bass at 2-5 (17″) on a Texas rigged plastic worm
Texas Time – I still recall getting the hang of fishing a Texas rigged worm on a Knox County farm pond back in the summer of 1986. The initial success of the approach made it a favorite in those early days of bass fishing. However, I would set the Texas rig aside in favor of other lures over the years. Therefore, it has been a fun return to the presentation in the last month or so and I have been rewarded with several solid catches. On this outing, the Texas rig produced a pair of bass over two pounds, a mark that qualifies the fish as what I call "good ones."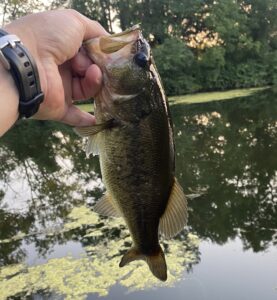 8:04pm – Topwater frog bass at 1-1 (12.5″)
Spro Success – I also managed to catch another bass on a Spro Flappin Frog 65 topwater bait. While my experience is limited with the lure, I really like the action, feel, and castability. I am far from being a frog expert, but it already has my vote as the best frog that I have ever fished. Time will tell if the bass back up that assessment, but I know a little something courtesy of a more recent outing using the bait. Stay tuned for that report later this month.
A productive quick hit on The Canal was a winner as I accomplished my goals. The stretch looks boat worthy although patches of vegetation may give me a workout on the oars. Quality bites also show that the rowing workout should be worth the effort. Several more fishing reports to come so talk to you later. Troy