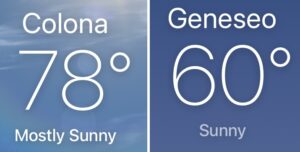 This past weekend was busy with a family get together on Saturday and my birthday on Sunday which included a lunch date with Julie and family time in the evening. On a selfish note, I also opted to work in some short fishing trips around those activities. Read on for a day-by-day recap of the ups and downs of some quick hits on The Canal including an earlier rainout with my boys.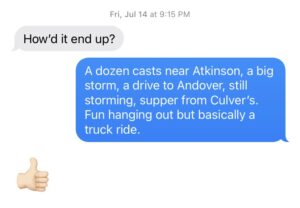 July 14 – Rained out with my boys but entertaining as always, details below
Stats
Date: July 14 and 21-23
Location: Hennepin Canal
Time: 4.25 hours total (2.25 hours boating, 2.00 hours biking)
Totals: 3 bass
Lures: 7.5" Yum Ribbontail Worm (plum) – 1 bass, 5" Yamasenko wacky rig (cream/green laminate) – 1 bass, Mann's Baby 1- (red craw) – 1 bass
Top Bass: 2-5 Plastic Worm
Top 2 Weight (only 2 at 12" or better): 3-3 (2-5,0-14)
Notes and Nonsense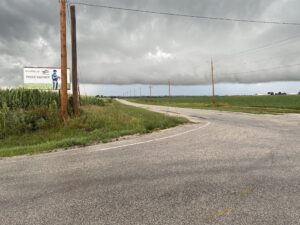 July 14 – An evening storm ran me and my boys off The Canal
July 14 (6:10pm-6:20pm hiking) – I had a chance to get my boys out for some casting, but Mother Nature turned real ugly right after we arrived at our Canal spot. The water was ugly too with a surface algae bloom that turned our spools green after only a few casts (might be a handy camo tint though). The weather initially looked a bit better to the southwest, so we headed to Andover, but the storm followed us. In the end, no real fishing, but following through on my promise of a fast-food supper lifted the spirits of my crew. Oh, I almost forgot to mention the "extras" from our guys' night out. First up, I've got a twelve and a fourteen-year-old who have skipped showering for longer than I want to know in the cab of a truck with the windows up due to a rainstorm. As boys will do, sometimes you must roll the windows down even in the rain, and we'll leave it at that. And the conversations, well…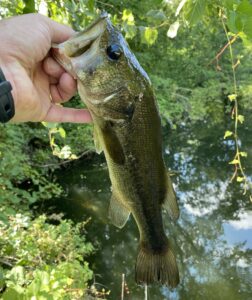 July 21 – The best I could muster was a skinny 13″ bass but it saved the day
July 21 (3:20pm-4:35pm biking) – I left home on Friday night for a bike ride feeling good about finding a bite on a stretch that I had visited earlier in the week. Like the July 18 trip that featured a pair of two-pounders, the plan was to bounce a Texas rigged worm around some deeper weed edges. I couldn't find any bites on the presentation this time around, but a wacky rigged Senko found a scrawny 13" bass hiding in some shade to avoid a shutout.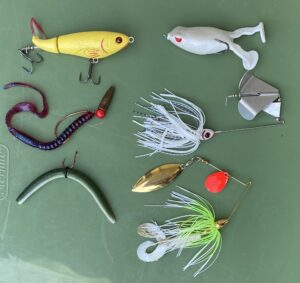 July 22 – An embarrassing shutout on The Canal as none of the above could fool a bass
July 22 (6:35am-8:50am boating) – I had not had the boat in The Canal for about three weeks as I typically only drag it in when I have more than a couple hours to fish. It is just easier and more efficient to pedal around on my bike when I have a limited window to cast. Well, on this date I would have been better off leaving the boat at home as I failed to catch a single bass while rowing a quality stretch. As I often say, "That's fishing", but it still leaves me scratching my head when I can't even get one bass to cooperate in some decent conditions.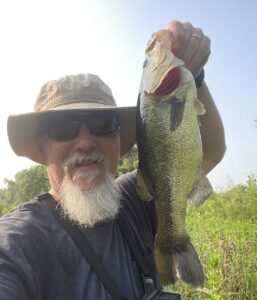 July 23 – Mission accomplished with a birthday bass on a short evening bike ride
July 23 (6:15pm-7:00pm biking) – After a midday date with Julie that consisted of a drive to an area baitshtop looking for topwater frogs and a late lunch at a local Mexican restaurant, I had a little time to get away. At best, I had an hour to cast, and I was simply looking for one bite to celebrate my birthday. It took just over ten minutes of dragging a Texas rigged worm across a deeper trough and I had my "Birthday Bass", a solid 2-5. Although I had accomplished my mission, I stuck around for another thirty minutes or so and fooled a short fish on a Mann's Baby 1- crankbait for icing on the cake.
The Canal continues to be hit or miss for me this year with the summer being more of a miss. For a change of scenery, I finished off my Saturday night with a brief stop at the Knox County strip mines to scout the conditions for a potential return visit. More fishing reports to come so stay tuned. Talk to you later. Troy