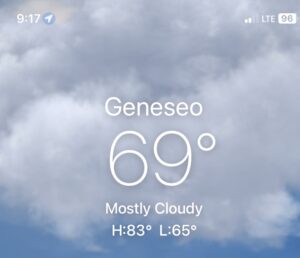 My first August trip was to a section of The Canal that I have always found appealing in terms of structural variety. In addition, it has produced three of my nine three-pound fish including my Top Canal Bass of 3-6. The water conditions looked great in terms of pool depth and clarity, I had my boat, and ample time to fish, so I was feeling good about my chances. Four and a half hours later, I was scratching my head as the trip was a struggle to find bites.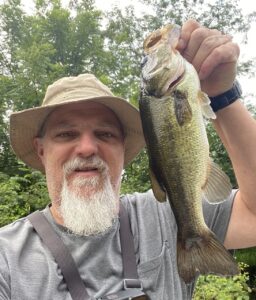 9:50am – Top Bass at 1-4 (14″) on a Senko wacky rig
Stats
Date: August 2
Location: Hennepin Canal
Time: 8:00am-12:25pm
Totals: 6 bass
Weather: Overcast to partly cloudy/breezy, 63-77F
Lures: 5" Yamasenko wacky rig (natural shad) – 5 bass, Spro Flappin Frog 65 (natural red) – 1 bass
Top Bass: 1-4 Senko
Top 5 Weight: 5-3 (1-4,1-4,1-0,0-14,0-13)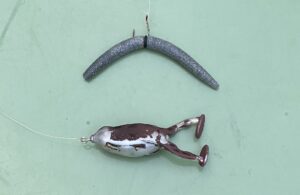 Winning Lures
Notes and Nonsense
Boat vs. Bike/Bank – One observation from my years of experience when being a shore bound angler is the thought of "boy, I wish I could get over there." Because you know, so many of those unreachable spots sure look like they would hold a bass. Well, when you get a boat on the water, all those spots are available for a cast or two and one would think that the catch results would be more favorable. Strangely, that is not always the case for various reasons that deserve a post of their own. For instance, I spent four and a half hours rowing around to anywhere I wanted on this trip and could only fool half a dozen bass. In comparison, one week earlier, I rode my bike along the same stretch and landed four bass in just over an hour, including a three-pounder. The grass isn't always greener, even on the water.
Canal Conversation – As I finished my morning, I encountered a fellow Canal angler who was fishing from a canoe. After the obligatory "catching anything?" portion of the chat, we began to compare notes on lures, locations, and logs. Yes, this guy noted that he had taken to logging his catches for several years although not quite as far back as 1985. I informed him that I was still in search of my first four-pounder on The Canal and he confirmed that they existed along with noting that he'd pulled in a 5-13 within a mile or so of our location. It's always fun to visit other Canal anglers, especially when they have considerably more experience than my two years. It was also entertaining that he complimented the old johnboat a couple times. I replied that a lot of fish have come aboard the little boat over the years, just not today.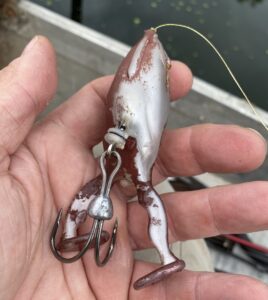 Only one on a topwater frog but the lure has taken a beating over the summer
The Canal bass continue to get the best of me in 2023 after they were quite cooperative last year. Fortunately, I have plenty of other public waters to visit. For my next outing, it was off to the Knox County strip mines for a change of scenery. And a change of "luck." Stay tuned and talk to you later. Troy