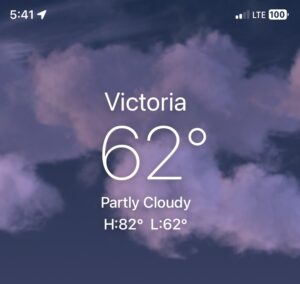 "I don't always drive the minivan to the strip mines, but when I do, I guess the bass better watch out. Stay fishing, my friends."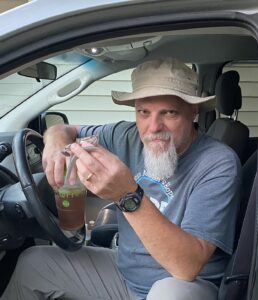 With my truck being out of commission, it meant that hauling the little johnboat to the fishing hole was out of the question. It was either setting out via bike or boots from the minivan and I chose the boots. For a destination, I chose some Knox County public strip pits that I usually avoid this time of the year as the terrestrial vegetation makes for tough walking. Turned out to be a good decision.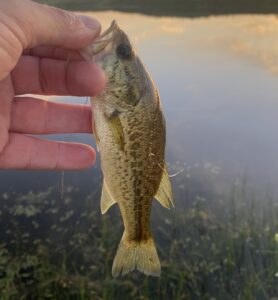 6:07am – First bass at 7″, don't want to set the bar too high
Stats
Date: August 13
Location: Knox County strip mines
Time: 6:05am-1:30pm (6.50 hours fishing, the rest walking)
Totals: 37 bass
Weather: Partly cloudy to overcast/calm, 62-79F
Lures: 5" Yamasenko wacky rig (smoke black/copper flake/lemon tip or natural shad) – 21 bass, Spro Flappin Frog 65 (natural red or killer gill) – 8 bass, Whopper Plopper 110 (bone) – 7 bass, 7.5" Yum Ribbontail Worm (plum) – 1 bass
Top Bass: 3-10 Frog
Top 5 Weight: 12-12 (3-10,2-6,2-5,2-4,2-3)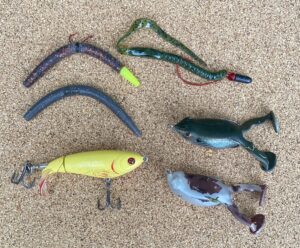 Winning Lures
Notes and Nonsense
The Mission – I've been logging my catches for a long time and find it fun to sort the database entries by various criteria. In looking over my data, I saw that my August totals for this batch of strip mines consisted of only six bass landed on August 31, 2019. Four of those bass were "keepers" making for a Top 4 of 7-4 (2-8,2-1,1-2,1-9). Along with those numbers, I had recently caught up on some data entry in the family record book to update the lake by lake Top 5 weight totals. Armed with all the above information, I had a goal to boost some numbers.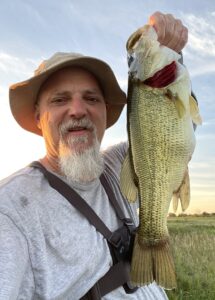 6:17am – New personal Maiden Lake Top Bass at 3-10 (20″) on a Spro Frog
Maiden Lake – The first lake that I ever fished in this area is what I named Maiden Lake. You know, kind of like a maiden voyage, since it was the site of my initial casts all those years ago. I never do worth a darn on the lake in terms of quality fish while Brent regularly lands some impressive bass including a 5-4 last year and a 4-0 in 2021. Those sort of catches get your attention and prompted me to take another shot at Maiden this morning. Fortune smiled on me with a 3-10 on a frog, smashing my previous best of 1-14 by nearly two pounds.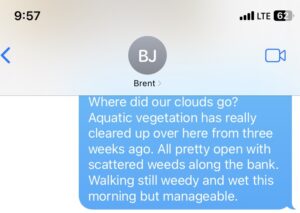 Keeping updated with Brent who was fishing several miles away, more details in a future post
Here Comes the Clouds – My mind has its own soundtrack featuring tunes that just kind of pop up based on circumstances. In the case of this fishing trip, the weather forecast included cloudy skies although the first few hours of sun had me wondering if those in the know had missed their prediction. But the tunes inside my head changed from a variation of The Supremes with "Where Did Our Clouds (Love) Go" to an altered Beatles cut "Here Comes the Clouds (Sun)" about 10:00am. And along with the increase in cloud cover came an increase in quality bites.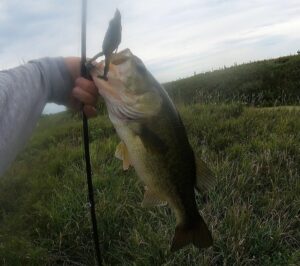 12:54pm – Island Lake Top Bass of the Day at 2-6 (17″) on a new Spro Frog
Island Lake – As none of these lakes have real names, we have made them up over the years. Island Lake has an island or two or three depending on the water level. Prior to this year, Brent had the lake record with a 2-3 landed in April 2021. Incredibly, that fish no longer makes the Island Lake Top 5 as 2023 has seen a big bass boom on the spot. And on this day, I landed a 2-6 and a 2-4, neither of which qualify for the current Top 5 either.
Senko Success – Twenty-one of the thirty-seven bass landed on this trip fell for the Senko wacky rig. Further proof of the effectiveness of the presentation as when it turns on, there is nothing better to have tied on when fishing these waters. In fact, I even moved away from using my favorite Senko colors to a mediocre pattern. When the bite gets going, it is more about the action of the lure than the hue, so I figured why risk my good colors getting destroyed.
My August mission in the minivan was a resounding success in terms of both numbers and a significant boost to the record book. In addition, Brent was fishing several miles away and having a good day as well. Stay tuned for an additional post and talk to you later. Troy