This past weekend, I was able to get back on the water for the first time in three weeks. My original plan was a sunrise trip but a short, restless night and not feeling well resulted in sleeping late. The upside to a later start was that the morning dew on the weedy terrain had a chance to dry out. The downside was that the late-afternoon outing began amidst ninety-degree air temperatures. Not exactly prime time for a hike but you gotta do what you gotta do as the collection of public strip mines that I fish will shut down in four to six weeks.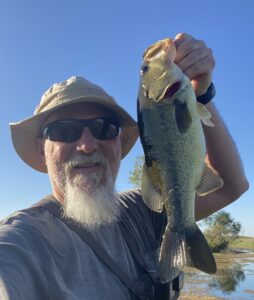 5:43pm – Top Bass Runner-Up at 2-3 (17″) on a topwater frog
Stats
Date: September 3
Location: Knox County public strip mines (4 lakes)
Time: 3:35pm-7:50pm (3.75 hours fishing, the rest walking)
Totals: 17 bass
Weather: Sunny/breezy, 91-84F
Lures: 5" Yamasenko wacky rig (red flake/chartreuse tail) – 7 bass, Whopper Plopper 110 (bone) – 4 bass, 7" Berkley Power Worm (blue fleck firetail) – 3 bass, Spro Flappin Frog 65 (natural red) – 2 bass, Bass Pro Shops 3" Speed Shad Swimbait (smallmouth magic) – 1 bass
Top Bass: 3-0 Senko
Top 5 Weight: 8-6 (3-0,2-3,1-6,0-15,0-14)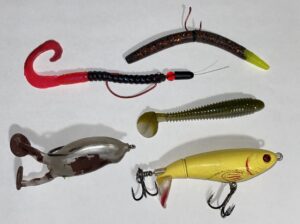 Winning Lures
Notes and Nonsense
Warm, Weedy Walk – It is incredible just how much vegetation covers the terrain of my strip mine hikes. As the uneven ground rises and falls, there are hidden ruts and weedy snags aplenty. Throw in tons of spider webs and their creators along with several nasty patches of thistles and the walk can leave you wondering if this was such a good idea. An added "bonus" on this outing was balmy early September temperatures in the low nineties. But hey, at least I didn't encounter any ticks this time around.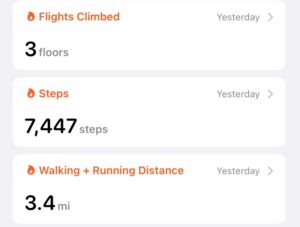 The Two That Got Away – I have noted before that my top goal of each outing is to post a Top 5 bass weight of double digits. On this trip I fell a bit short at 8-6 but I had the fish on to get the job done. The first of two "keepers" that got away was a fish that I would estimate in the four-pound range. It was briefly hooked on a frog during a lengthy cast and threw the lure on a leap. The second missed opportunity was a bass that I would put in the two-pound range that broke off on a hookset. This one puzzled me as I use thirty-pound braid on my frog setup, and it did not appear that my knot slipped as much as it was just a line break. Either of these bass would have given me the boost needed for double digits but as I often say, "That's fishing."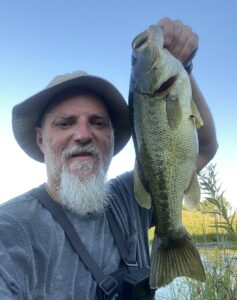 6:25pm – Top Bass at 3-0 (18″) on a Senko wacky rig
Top 5 Boost – I have stats on nearly every lake that I have fished going back as far as 1985 and I get a kick out of tracking the Top 5 all-time weight from each lake. My Top Bass from this outing at 3-0 earned a spot in my Top 5 from what I call Island Lake as it knocked out a 2-7 that previously held the Top Bass #5 entry. 2023 has been a phenomenal year on Island Lake as the current all-time Top 5 comes in at 18-14. That is an amazing leap from the mark of 6-11 to start the year. Top 5 tallies will be the focus of some "off season" posts as 2023 has been a very productive year for me and my fellow anglers.
Another successful trip is in the logbook as the strip mines continue to dish out a quality bite. This trip was what I considered the kickoff to fall fishing despite it not really being fall and not resembling fall weather. It also represented the start to the home stretch of the 2023 fishing year. My annual goal is to catch my final bass in November and, believe it or not, it isn't that far away. In the interim, I hope plenty more bass join the log as plans are being made to get after them a few more times. Talk to you later. Troy