I certainly enjoy putting together these flashback posts but the ones that include a fishing partner mean a little something extra. A lot more going on upstairs than just a fish story when I get to composing a post like today's edition.
While these photos go back 25 years, me and that guy go back even farther. That guy is a fellow known to many as "Geek" and our friendship dates back to the early 80s. I've got a couple years on him but was fortunate to share the court with him back in 1984-85 as a Galesburg Silver Streak. Geek (actually, Mark Junk) would go on to be one of the leading GHS scorers by the time he graduated in 1987 and then would take his game to the next level at Knox College. Yep, among the top scorers of all-time there, too, as well as being enshrined in the school's athletic hall of fame.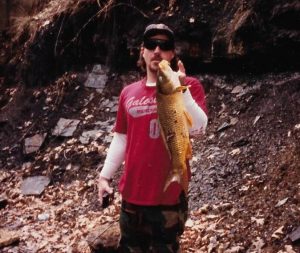 Geek's older, shorter, former teammate gets in on the act
On the other hand, the combo of a lack of height, talent and desire found me perched in the top row of the bleachers at Knox College's Memorial Gym recording the stats of Geek and his teammates. Yep, I was known as "Stat Boy" among a few in the b-ball circle. Part term of endearment and part poking fun, never was quite sure on the breakdown percentage wise. Regardless, I earned some beer money, had a great view and the focus on the game required while documenting the numbers further reinforced an appreciation for my friend's talent.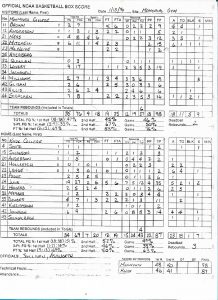 Jan. 13. 1990 – Official box score Knox vs. Monmouth rivalry 
Closer look at the "good guys" who came up short on this night (stat sheets courtesy of "Stat Boy")
Anyhow, many stories over the college years and beyond, some of which we vividly remember and others that are a little foggy. Among those that fit into both categories were trips to the Lake Bracken Spillway, home to a batch of carp (and other species) that sometimes cooperated and sometimes had lockjaw. You know, fishing. But hey, if the fish weren't in the mood to bite, we always had an ample supply of refreshments and rambles to keep us happy.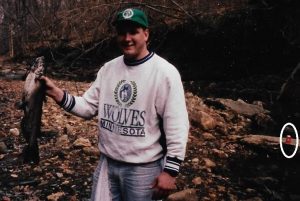 Note: important to stay hydrated in the rugged spillway environment. Oh yeah, nice catfish. too. Celtic cap, on the other hand…
Fortunately, on this particular April day, twenty five years ago, the bites and The Beast* were top notch (*Milwaukee's Best Light). Here's to good (?) beer, great fishing and best friends. Geek, if you're out there reading this, knock a couple down for me.
Talk to you later. Troy