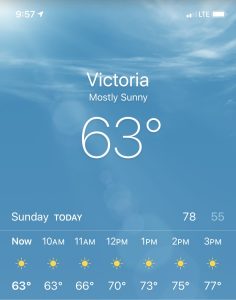 In celebration of "Snakeden at 30" I wanted one last shot at the walk-in portion as a sort of 2020 grand finale for the site. Well, I got my shot but the bass were not in a partying sort of mood.
Stats
Date: October 11, 2020
Location: Snakeden Hollow (2 lakes), Little John (1 lake)
Time: 8:05am-1:40pm (4.25 hours fishing)
Weather: Sunny/breezy
Air Temp: 60-77F
Water Temp: not available
Totals: 6 bass
Lures: Chatterbait (bluegill) with Zako trailer (smoke or green pumpkin/white) – 6 bass
Top Bass: 1-3 (Chatterbait)
Top 5 Weight (only two at or 12" or >): 2-5
10:29am – Top Bass at 13.5″ and 1-3
Notes and Nonsense
Confusion – I was looking to get in a final shot at the Snakeden bass before the annual shutdown to anglers went into effect. Typically, the shutdown date is two weeks prior to the Central Illinois Goose Season opener (October 24) which would mean an October 10 closure. However, a social media post from an angler who had visited Snakeden during the first week of October indicated the site was already closed on October 8. I was fishing nearby on October 8 so did a drive by and all indications showed the site to still be open. A pair of fellow anglers then noted that they were onsite on October 10 and there were no signs of a shutdown. Finally, I called the site office to find a recording stating that the site would close to anglers on October 13. So, I went with that and no one showed up to run me off. As of this post though, I do believe the site is closed until sometime in January 2021. But don't quote me on it.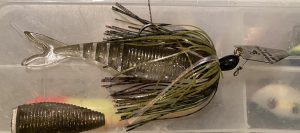 Winning bait on the day as the chatterbait landed all of my bass
Quick Release – As if it wasn't rough enough that I could only get half a dozen bass in the log, I lost just as many as they threw the lure on the way to the boat. While I do come up short when it comes to hook sharpening, I'm not really sure that was the issue. Instead, the bite was real funny, not very aggressive, just heavy or something odd with the action of the bait. In addition, nearly every bass seemed to be coming at me on the strike. As a result, my hooksets may have not produced full impact and there was a momentary period of catch up in reeling while the bass were moving full speed ahead towards the boat. Overall, just a weird feel as me and the bass were not in synch.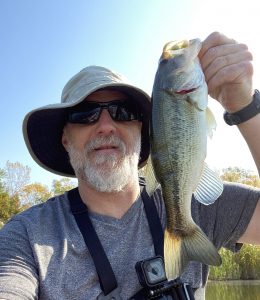 10:51am – Top Bass Runner-up at 13.5″ and 1-2
The Plan – I had three, possibly four lakes in mind for my visit. Lake one was a disappointment with zero bites in 90 minutes of fishing. My second stop lifted my spirits a bit with six bass in the next 90 minutes. After a decent walk back to the truck I headed for Lake three only to find a couple other anglers had beaten me to it. In addition, I was feeling a little beat from the energy exertion required and being out of shape again. As a result, I took the easy way out with a drive to some private water where I could back the truck right up to the water. A decision which earned me zero bass in an hour as a two-pounder tossed my chatterbait during a leap. Just was not my day despite some pretty spectacular fall weather.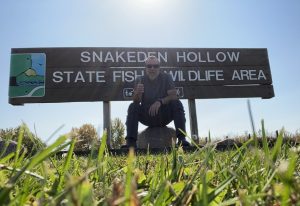 Trip Lyric:
"I ain't as good as I once was,
My how the years have flown,
But there was a time,
Back in my prime…"
As Good As I Once Was, Toby Keith (2005)
Well, when the Snakeden Hollow site opened back in 1990, I was 23 years old. Some days that is more apparent than others. There are a couple more lines that sum up my decision to keep plugging away at this type of stunt as Keith sings:
"Now my body says 'Oh, You can't do this boy',
But my pride says 'Oh yes you can.'"
The off season has a way of recharging that spirit so we'll see if "I'm feeling bulletproof" in 2021.
Fortunately, I did not have to wait long to get another shot at some bass with a Lake Storey trip lined up for the following morning. Although the weather was less than appealing, the bass thing worked out considerably better. But that's another story. Stay tuned and talk to you later. Troy