I've long been a fan of the fall drawdown at Lake Storey just north of Galesburg, Illinois. From a fishery management standpoint, I support the practice 100%. Part of the concept is to leave the shoreline cover high and dry which diminishes the hiding places for smaller prey fish. This gives the predators a much better shot at a meal and helps to promote a healthier overall population structure. And sometimes those larger predator fish let their guard down. Dad and I found a handful of such quality fish including one that was something extra during a couple trips in October of 2010.
Originally Posted 10-22-10 as part of "There's No Fish in Lake Storey"
Such is the mantra I've heard from frustrated local anglers for as long as I can recall. I've been there too. But over the years I've come to learn a thing or two about one of my regular fishing holes. Good things can happen when you put the odds in your favor as evidenced by the 10 pound 2 ounce walleye pictured below. This trophy decided to stick up for Lake Storey when it nabbed my Bomber Flat A crankbait (baby bass) as I cranked and bounced it off the bottom in about six feet of water.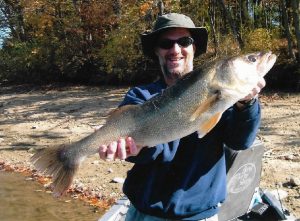 October 21, 2010 at 12:29pm – a 10 pound 2 ounce Lake Storey walleye
Now I won't pretend that I'm a walleye fisherman as Dad and I were actually pursuing bass but there's something to be said for being in the right place at the right time. Stable weather, the fall drawdown, a windblown point, relatively deep water nearby, early afternoon, direct sunlight, stained water and a few scattered rocks littering the area were an appealing, and in this case, successful combination. Throw in the fact that I've always viewed Lake Storey as a "crankbait lake" with a nod towards black and orange color combinations on whatever you're throwing and it can certainly add some confidence to casting. Of course, maybe I'm overanalyzing but that is one of the extremes we anglers sometimes find ourselves dealing with during the highs and lows on the water.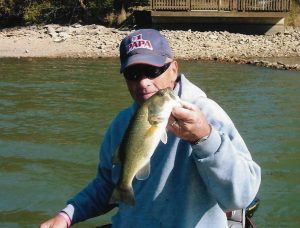 October 21, 2010 at 1:34pm – Dad with a 1-7 on a spinnerbait
Originally Posted 10-23-10 as part of "Lake Storey Report"
With Snakeden closed to anglers and limited time to spend on the water, Dad and I chose Lake Storey for our destination on October 21. True to form, the trip reinforced much of what I detailed in my September series on fall fishing. Here's a look at our day on the lake.
New Walleye Record – If you saw yesterday's entry you know that being in the right place at the right time put a 29" ten pound walleye in the boat. The running dialogue kind of went like this, "I've got a good one, I'm not really sure what it is, oh man, that's a walleye, do you think it will go ten, I think it will go ten, that is a brute." The fish eclipses my old personal best, a 7-14 from Lake Storey on 10/2/08.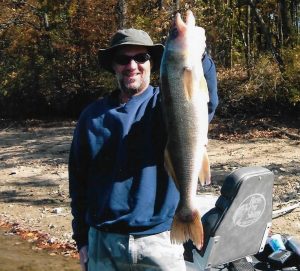 Okay, what the heck, a second picture of the 10-pound walleye
Top Bass – We did manage to add another bass in the three pound range to the record book. The fish hit on a textbook spot as I reeled my spinnerbait up to and over a partially submerged tree before letting it fall on the other side. It's great when it works like that though I will admit that we also tried this approach on several other pieces of structure where we came up empty.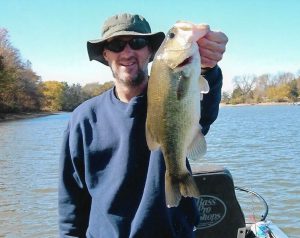 October 21, 2010 – Top Bass at 3-4 on a spinnerbait
Yet another rewarding fall trip as we try and squeeze in those last few bass before putting away the gear for the year. You can't beat the icing on the cake when it's a ten pound walleye but I guess I shouldn't be overly surprised. For as Dad made his way across the parking lot after launching the boat, I saw him stoop down to pick something up. It was a penny, heads up. He commented on the fact that he hadn't found one for a long time and speculated that we would indeed be in for some good luck. And while I wouldn't argue against anyone describing the walleye as a lucky catch, they all count in my book.
Posted 10-24-10 as part of "Lake Storey Report Two"
Initially, I'd planned a trip to Emiquon but reconsidered after the forecast called for winds in excess of fifteen miles per hour. I just don't have access to a boat (minus an outboard) that can hold up in those conditions. Besides I could only manage a half day trip and it's not worth the drive. Instead we stayed closer to home risking going to the well once too often by hitting Lake Storey again. Things weren't quite as successful the second time around but we did manage to add another good fish to the record book.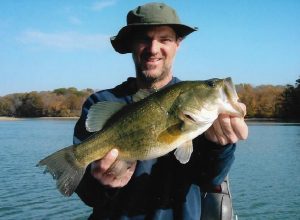 October 22, 2010 at 3:18pm – Top Bass at 3-11 on a spinnerbait
Top Bass – My 3-11 came off of some brush sticking above the surface in less than two feet of water. The previous day I'd had a fish nip the trailer of my spinnerbait as it approached the structure. Then seconds later as I came through some branches I saw a flash near my bait. At that point, I made the mistake of setting the hook too soon, pulling the lure away from the fish and sending my spinnerbait flying out of the shallow water. I should know better but sometimes the excitement gets the best of you. Anyway, I figured the spot was worth a return visit the next day and as the above photo shows, we were not disappointed.
October 22, 2010 at 4:31pm – Dad with a 1-7 on a spinnerbait
Totals
Dates: October 21 &22, 2010
Location: Lake Storey with Dad
Time: 9 hours fishing
Totals: 11 bass, 1 walleye
Lures: Quad Shad or tandem spinnerbaits (white or white/red) – 7 bass, Bomber Flat A (baby bass) – 2 bass & 1 walleye, Vicious Fishing Muskrat (green pumpkin) – 1 bass, Mann's Baby 1- (unknown) – 1 bass
Top Bass: 3-11 (Troy – Quad Shad spinnerbait)
Top 5 Weight: 11-3 (3-11,3-4,1-7,1-7,1-6)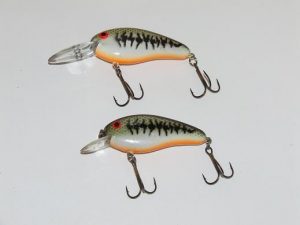 Bomber Flat A crankbaits (baby bass pattern) – my favorite walleye lures when I go bass fishing 
As always, our bass fishing trip was strictly catch and release, walleye included. Fooling that toothy critter with Dad on board was pretty cool. We've got quite a collection of fishing memories but that catch ranks among my favorites. All of these years later, I wonder if that fish ever got fooled again and made someone's day. While not what I was targeting, a walleye that size in Illinois is pretty special. If it wasn't the Lake Storey record at the time, it had to be darn close. We'll never know, but since I'm the guy telling this fish story…Talk to you later. Troy