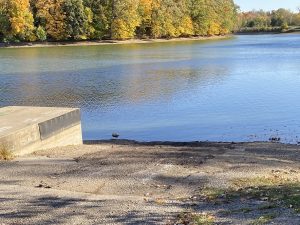 As my fishing year winds down, I always try to get in a shot or two at Lake Storey during the fall drawdown. Kind of one of those "tradition" or "for old time's sake" deals. My brother, Brent, and I had a tough day in September before the drawdown hit full swing so I was eager to get another shot. In this case, I was flying solo on a pretty nasty morning with the lake dropped as far as I have ever seen (made the ramp a little sketchy).
Stats
Date: October 12, 2020
Location: Lake Storey – Knox County, IL
Time: 9:35am-3:35pm
Weather: Overcast to sunny/very windy with a light early rain
Air Temp: 55-67F
Water Temp: 64-65F
Totals: 8 bass
Lures: Strike King KVD 2.5 Rattling Squarebill Crankbait (natural pumpkinseed) – 3 bass, Strike King Wake Bait (natural shad) – 2 bass, Strike King Red Eye Shad (sexy shad) – 1 bass, Chatterbait (bluegill) with Zako trailer (green pumpkinseed with white) – 1 bass, Jig and Craw (green pumpkin) – 1 bass
Top Bass: 3-9 (KVD Squarebill)
Top 5 Weight: 9-0 (3-9,2-3,1-4,1-0,1-0)
Notes and Nonsense
Shiver to Sweat – I left the Quad Cities around 8:30am where the temperature was 67F. When I launched the boat just north of Galesburg, roughly 45 miles from home, it was 55F. Not only was it cool but there were gale force winds and I later got rained on for maybe 10 minutes. While the wind got worse, the temperature did climb to the upper 60s by the time I was loading the boat to head for home. In the span of six hours, I had went from some achy, cold knuckles to ditching my sweatshirt after trailering the boat. Fall fishing at its finest, comes with the territory. And worth the occasional struggles.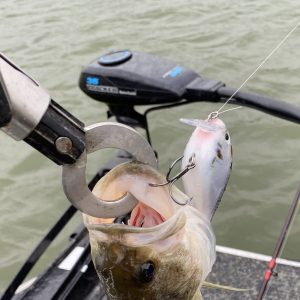 10:17am – Newly purchased wake bait comes through as planned
Waking 'Em Up – Several days prior to this outing I had made a trip over the river to Iowa to pick up some new wheels for my johnboat transporting dolly. While in the neighborhood, I dropped into the Field & Stream location in Davenport for some late season tackle stocking. A Strike King Wake Bait caught my eye as I had several perfect spots at Lake Storey for such a presentation. I had my sights set on three extensive, shallow stretches that feature scattered patches of rocky debris. Two out of three came through with a bass, nice when they make you feel smart every once in a while.
Stuck – The wind was terrible and, of course, blew directly against me when headed back to the ramp. I run a bow mounted, foot controlled trolling motor for working over my spots and hop to the rear trolling motor for runs between spots. As I began to head back I fell prey to the wind and the limited turn radius of the rear motor, winding up blowing onto a flat with both motors stuck in the mud. It took several minutes to dislodge the motors and truly had me worried. I was at the point of deciding whether to keep my shoes on or take them off figuring that I may have to go overboard. Fortunately, continued work with the emergency oar got me floating again and I was once again fighting the direct wind and whitecaps from near 30 mph gusts. All told, I probably wasted 40 minutes of fishing time before I found an area that allowed for casting and boat control.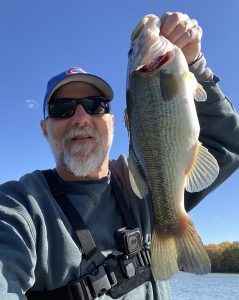 2:40pm – Top Bass at 19″ and 3-9 on a crankbait
Reward – After nearly five hours of fighting the wind and maintaining my balance, I got back within sight of the ramp and found a bit of a windbreak. Half a dozen bass in the log with a 2-3 Top Bass was already a pretty solid Lake Storey day for me, particularly with the less than desirable conditions. However, the best was yet to come, courtesy of a healthy 3-9 on a Strike King Squarebill crankbait. I added one final bass along the home stretch at 1-4 which gave me a rewarding finish and filled out my Top 5 among the eight bass day.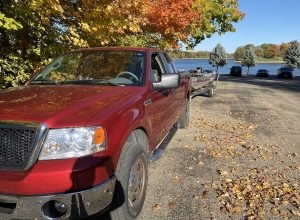 Headed home from a the old "home" lake after a productive and tiring day
I left the lake happy and tired following yet another fall drawdown visit with an old favorite fishing hole. The Lake Storey challenge may not be everyone's cup of tea as other area fishing holes may offer the shot at more and bigger bass. But I wouldn't trade my traditional fall finale for a trip to any exotic destination. For my money, there's no place like "home." Talk to you later. Troy