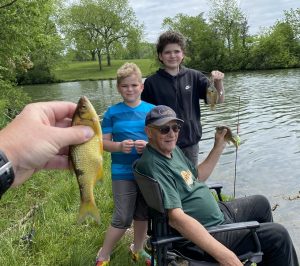 Prior to a family birthday party, me and the boys joined Papa at his spot to chase some panfish and we weren't disappointed. Not all about the catch with this crowd as conveyed in today's report.
Stats
Date: May 22, 2021
Location: Lake Storey
Time: 10:45am-12:00pm
Weather: Partly cloudy/breezy
Air Temp: 70F
Water Temp: not available
Totals: Roughly 40 bluegill, 2 golden shiners, 1 redear
Lures: Waxworms on a 1/16 oz. jighead hung from a slip bobber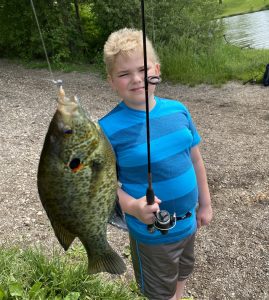 Zac added a redear to his personal species list with his first catch of the morning
Trip Tune
"Who Can It Be Now" – Men at Work (1982)
My kids have a varied musical interest thanks to a little 70s and 80s brainwashing from yours truly. This tune is a favorite and ideal for a sing along on the ride to the fishing hole.
A golden shiner was a new species for me at Lake Storey although Dad has caught several in the last few years
The United States of Beef Jerky – We picked up breakfast on the way out of town consisting of spicy chips, Oreo bites, chocolate milk, Mountain Dew, unsweetened iced tea, and a couple bags of beef jerky (it was on sale). Zac grabbed a piece of jerky that he reckoned looked like North Dakota and it was on. A couple "states" in the video required some chewing while the rest were straight from the factory. Do we know how to have fun or what? Feel free to send me any additions that you may encounter in that next bag of beef.
Terms – I can't recall the topic but somewhere along the ride my boys learned the saying, "Open a can of whoop@$$." They found it rather amusing, and I asked Jayce to record it on the voice memos on my phone. He did so but wouldn't use the "bad word" even though I told him it was fine. I also learned something new as Zac asked about a bug that had breezed by at one point. Jayce informed that it was a "three-horned monkey wasp." As a guy with a biology degree and an entomological appreciation, I was impressed with his quick identification. Just wish we'd gotten a picture of this new species.
Croc Rescue– A highlight of the trip was watching one of Zac's brand-new Crocs blow across the lake out of grasp and casting distance. Somehow, he managed to launch if off his foot and well beyond his reach. The wind rapidly pushed it past the depth of my knee boots and several casts failed to hook the floating footwear. Fortunately, the wind direction was perfect, and the croc wound up across the cove along a limited stretch of easily accessible bank. We all got a laugh and a "don't tell Mom." All's well that ends well and Mom got wind of the story but just shook her head in what I interpreted as a "boys will be boys" statement.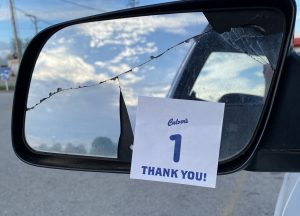 Sponsor Quest – Unlike real bloggers and YouTubers, I have no sponsors. However, the boys talked me into supper, so Culver's, if you are out there, this makes two stops in a row on the return home from a fishing trip. In addition, the Cubs broadcasts tout a product called "FunkAway." Well, my boys are getting to the ages where it gets a little ripe in the cab of a truck after a full day outdoors. I suppose we might as well throw in a beef jerky sponsor along the way. Perhaps one day we will get a spot in a commercial with Sasquatch, a dream come true for this crew.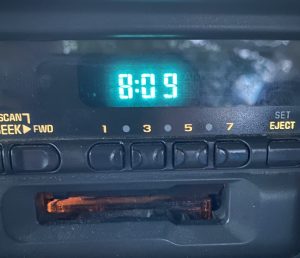 The boys usually ask on the ride what time we will get home and my 8:09pm guess was only off by 15 seconds as we reached the driveway at 8:08pm and waited for the display to change.
Sure, we caught some fish, too. But with Papa as our guide that was to be expected as there are just a few years of experience for that guy in the camping chair. Talk to you later. Troy