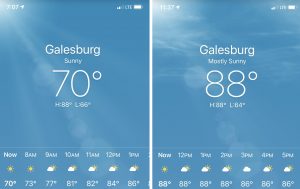 My family made a trip back "home" to Galesburg last Saturday for a birthday party that included an overnight for me and my boys. While they slept in and later hung out with their cousins, me and Dad launched his boat at daybreak on the old stomping grounds.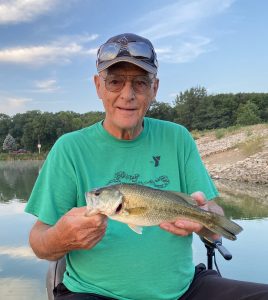 6:13am – Dad with our first bass at 12″ and 0-14 on a crankbait
Stats
Date: July 25, 2021
Location: Lake Storey – Knox County, IL
Time: 5:40am-10:55am
Weather: Sunny/calm to light breeze
Air Temp: 73-88F
Water Temp: 83-84F
Totals: 7 bass (Dad = 5, Troy = 2)
Lures: Strike King Rattling Squarebill Crankbait (sexy ghost minnow or natural pumpkinseed) – 3 bass, 5" Yamasenko wacky rig (green pumpkin) – 2 bass, Strike King Red Eye Shad (orange craw) – 1 bass, Vicious Muskrat creature bait (green pumpkin) – 1 bass
Top Bass: 1-2 Dad Senko
Top 5 Weight (only 3 at 12" or better): 2-12 (1-2,0-14,0-12)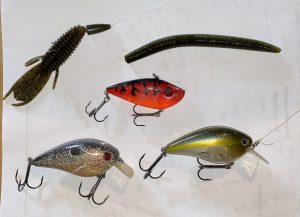 Winning Lures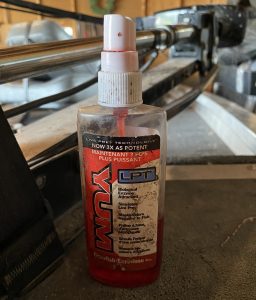 Part of the reason I got outfished by Dad? This stuff may be older than some of his grandkids.
Notes and Nonsense
Back-to-Back Bass – Less than a half hour into our casting, Dad had already lured several strikes, but the bass had shaken off before reaching the boat. Things were looking pretty good in terms of action and proceeded to get better when he landed our first two bass on back-to-back casts. I was busy doing my logging of the first fish when I realized bass number two was on the line. Pretty cool to have it on video as shown below.
One That Got Away – As it sometimes happens on a fishing trip, there was "one that got away." Shortly after 7:00am, Dad set the hooks on a bite that he indicated felt like a good one only to have it somehow come unbuttoned without a glimpse. It was one of several that got loose on crankbaits, and we still marvel at how those bass can avoid the treble hooks. It leaves you scratching your head sometimes considering the ability of those hooks to find purchase in your tacklebags, boat carpet, life jackets, shirts, and so on.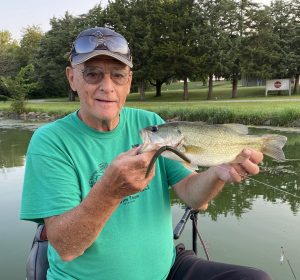 6:31am – Dad with Top Bass at 13″ and 1-2 on a Senko
Big Birds – Over the course of the morning, we spotted several of the larger birds in our area that have an affinity for water. These included a bald eagle, a cormorant, and a blue heron (as well as its smaller cousin a green heron). However, missing on this day was an osprey, a unique bird that we frequently see fishing alongside us at Lake Storey.
The New Armada – We were the first watercraft to arrive at the ramp but were joined by several others before we called it a day. The final tally showed a 2 to 1 ratio of kayaks to boats (10 to 5). Recent years have seen quite the kayak explosion as they are a regular sight on the water or being transported around town awaiting their next dip.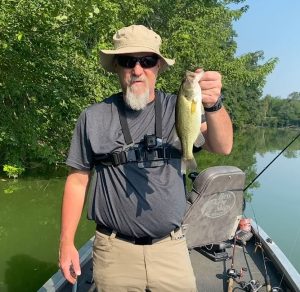 9:02am – The best I could fool but just shy of 12″, not a "keeper"
Nothing stellar on this trip and no problem getting easily outfished by Dad. The dog days of summer are always a challenge and Lake Storey can be a tough one no matter the season. After many years of casting together, the catches can just be icing on the cake. In between bites, there were plenty of what I call "Remember That One Time" tales. Dad told of slaying the crappies with Uncle Bill in a rowboat well over 50 years ago, landing a muskie off Dump Point, losing a Wyoming Cowboys baseball cap in the lake, catching bass off a picnic table, catching a bass from the top of a stump sticking out of the water…
Don't get us started. Talk to you later. Troy