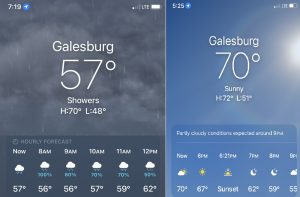 What is it like to spend nine and a half hours on your favorite lake?
Well, if you elect to tag along here on the blog. I'm going to run it down for you with the regular stats and a chronology of the catches.
Stats
Date: October 14, 2021
Location: Lake Storey – Knox County, IL
Time: 7:20am-4:50pm
Weather: Overcast/rainy/breezy to sunny/breezy
Air Temp: 57-70F
Water Temp: 67F
Totals: 8 bass
Lures: Strike King Rattling Squarebill Crankbait (natural pumpkinseed) – 4 bass, War Eagle Spinnerbait (white/chartreuse) with twin tail trailer – 2 bass, Berkley Havoc Pit Boss (green pumpkin) – 2 bass
Top Bass: 2-3 Squarebill crankbait
Top 5 Weight: 7-5 (2-3,2-0,1-2,1-0,1-0)
Chronology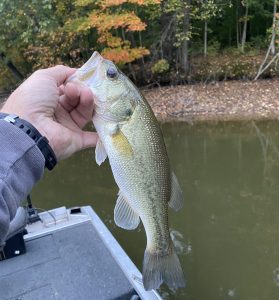 7:21am – Bass #1 (12.5″ and 1-0)
7:21am – The second cast of the day produces the first bass of the day on a spinnerbait. If you have fished Lake Storey, perhaps you know the log across from the boat ramp. It's been a spinnerbait winner many times and had my hopes high in the dingy water resulting from a substantial amount of recent rain.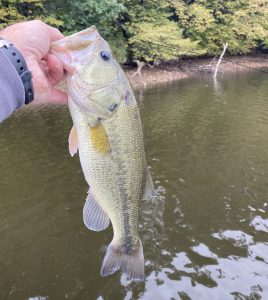 10:23am – Bass #2 (15.5″ and 2-0)
10:23am – Bass number two hits the two-pound mark, once again on a spinnerbait off some sunken trees. However, it took me over three hours and most of the lake to get the bite. Numerous good spots had let me down and I had wandered to spots further than my normal rounds. My early high hopes were trending back to my initial outlook of a tough bite in the stained water but it was good to get bit "uplake."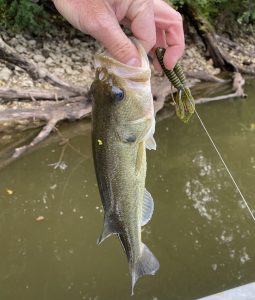 11:07am – Bass #3 (13.5″ and 1-2)
11:07am – Not nearly as long a wait between bites and wood in the water comes through again. This time it requires slowing down with a Texas rigged Yum Crawdad bounced through some brush. I don't slow down much and must admit it was kind of fun to find success on a different approach.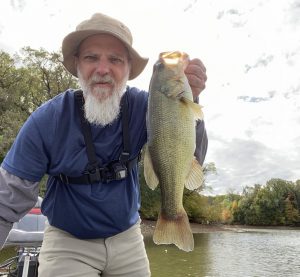 12:19pm – Bass#4 (17″ and 2-3)
12:19pm – The Top Bass of the morning comes on a crankbait cast to a submerged rockpile near a main lake point. This spot gets a look during every visit and if you bang a crankbait around it enough you can often get a bite. The timing was fun also as I had just finished an on the water chat with my friend, John Kirkemo, and he trolled back over to shoot a few pics.
12:31pm – Shortly after recording my Top Bass and chatting with John, I fired another cast to the rockpile and was rewarded with a second bass from the structure. This one was smaller than his fellow resident and at 11.5" narrowly missed being my fifth "keeper."
2:15pm – Fishing a submerged stump for the second time produced my sixth bass of the day. However, this one kind of surprised me as I had cast nearly twenty feet past the stump so as not to land on top of the structure and then planned to work my bait into the prime spot. My Yum Crawdad never made it to the stump as the bass hit almost as soon as my cast entered the water. Another short one but a bonus open water fish from an intentional off target cast that produced before it was intended.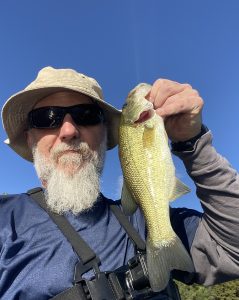 3:30pm – Bass#7 (13″ and 1-0)
3:30pm – Time was running out on finding a fifth "keeper" to round out my regular goal of a Top 5 of bass at 12" or better. While an early morning pass along the dam did not produce, the afternoon stop proved to be a winner on a crankbait. The 13" bass came in right at one pound to complete my Top 5.
3:46pm – Continuing my pass along the dam, I caught my final bass of a long day. It was short and no help to my weight, but any bite is a good bite on Lake Storey as those bass can be tough to fool. It was also satisfying to still be dialed in after a long day on the water.
Winning Lures
Could I catch more bass somewhere else? Sure.
Would I catch more quality bass on my other fishing holes? Most likely.
But I have a long-standing affliction with what I still call my "home lake" even though it requires a bit more of a drive than it once did. There's something satisfying about fooling those wary bass along with the focus, perseverance and execution required to do so. This likely completes my 2021 Lake Storey visits but myself and my fishing partners did alright, and I think we came out on top in our efforts. Beyond the catches there is always more to report so stay tuned for the "extras" from this latest trip coming to the blog next week. Talk to you later. Troy