The new water theme continued as I took another shot at establishing a Top 5 on a stretch of The Canal I had only seen when iced over. Back on New Year's Day, I took a walk along this portion, and it looked to contain some appealing wood structure along its length. Of course, things look a lot different in June than in January, primarily aquatic vegetation. Read on to see if I was able to coax out any bites.
Stats
Date: June 19
Location: Hennepin Canal
Time: 6:50am-11:20am
Totals: 9 bass, 1 green sunfish
Weather: Sunny/breezy, 64-82F
Lures: Booyah Buzzbait (black) – 5 bass, 5" Yamasenko wacky rig (watermelon cream laminate) – 3 bass, Berkley Power Blade Spinnerbait (coleslaw) – 1 bass
Top Bass: 1-14 Senko
Top 5 Weight: 8-2 (1-14,1-11,1-9,1-9,1-7)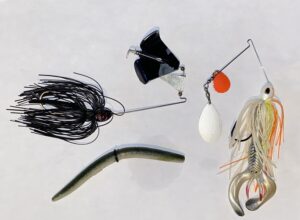 Winning Lures
Notes and Nonsense
Weeds and Wood – If given a choice between weed and wood cover, I would choose wood for reasons that would best be covered in a post of its own. For this outing, however, I had to work a combination of the two types of cover for a few bites. Several fish came off the ends of laydowns or overhanging trees that were lengthy enough to reach the edge of the abundant shoreline weeds. The weapon of choice in these cases was a buzzbait. It is always fun as you anticipate an explosion when the lure nears a suspected ambush point while your mind says, "There should be one right here…"
Buzzbait Pattern Video 
Lost and Found – Another lure was added to the collection as I found a topwater frog on a snag along the way. Typically, these discoveries end up in the tacklebag of my oldest boy, Jayce. The Canal has contributed a solid batch of additions to the rest of his gear received over years of birthday and Christmas celebrations. However, the frog tempted me to keep it for myself. You see, me, The Canal, and frog fishing have never seen eye to eye for some reason. As mentioned in a previous post on the blog or social media, I am the self-proclaimed "worst frog angler on The Canal." I mean, the place is custom made for the presentation and I see plenty of reports of others having success, but I continue to struggle. Thus, I thought that maybe the frog find was an omen, but I have yet to put it to use. I did use one of my own frogs and had a couple blowups but still 0-2023 in landing a bass.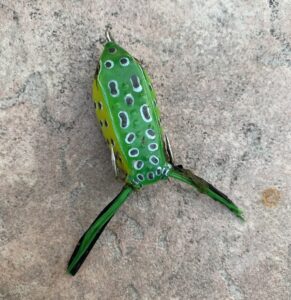 Was this discovery trying to tell me something?
Fatigue – This trip took place on a Monday after an enjoyable Father's Day weekend camping trip with plenty of fresh air and fishing. Couple that with rising at 4:30am after about five and a half hours of sleep and I was feeling rather beat. As the years roll on, I have begun to find that fatigue has an adverse effect on my fishing, Primarily, I observe this effect in my casting. By virtue of forty plus years of practice, a guy gets pretty accurate with his presentations. But when I am tired, I pull some casts, get lazy and leave others off to the right, and my touch and distance are suspect. The result was catching many more trees, vines, roots, and weeds than normal. It all makes me realize that I am not getting any younger and why the pro tournament trail is mainly a young angler's game.
I got my Top 5 from this new stretch of The Canal although I came up short of the ten-pound mark at 8-2. The upside of doing a lot of fishing is self-explanatory. The blogging aspect, however, suffers a bit as it can be tough to find time to put together the "fish stories." One more report down, and a handful to go. Stay tuned and talk to you later. Troy