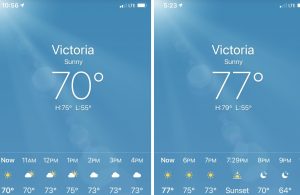 Life has been busy, leaving little time to blog despite plenty of potential content. One such bit of content is the latest fishing report which comes along nearly two weeks after the fact. This trip took place on an extended Easter weekend Monday as I took a day off and hoped for results like a successful Good Friday outing. Turned out to be Decent Monday in terms of numbers but just couldn't find any quality bites. Such is fishing.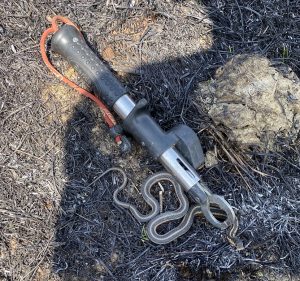 Placed my Boga Grip on a hole which was somebody's home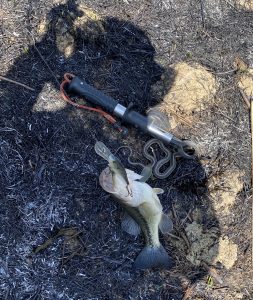 Stats
Date: April 5, 2021
Location: Knox County, IL public strip mines (13 lakes)
Time: 10:50am-6:30pm (6.00 hours fishing)
Weather: Sunny/very windy
Air Temp: 70-77F
Water Temp: not available
Totals: 34 bass
Lures: Rapala Shad Rap (shad) – 15 bass, Excalibur XR50 lipless crankbait (chicken pox) – 10 bass, Bomber Flat A crankbait (baby bass) – 7 bass Strike King Red Eye Shad (sexy shad) – 1 bass, Chatterbait (bluegill) with Zako trailer (chartreuse shad laminate) – 1 bass
Top 5 Weight: no bass at 12" or better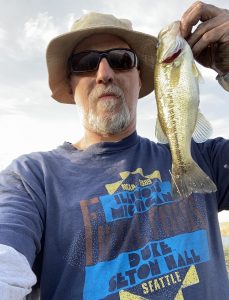 Lots of bass like this one, no "keepers"
Notes and Nonsense
Tough Trick – Thirty-four bass sounds like a rather good day on the water and truly that is a darn good number of bass. The crazy thing is that not even one was a "keeper" (12" or better although all get released to fight again). Except for one lake full of small bass, all the waters that I fished can produce plenty of bass that make the grade. Therefore, it was quite odd that all my catches ranged between eight and eleven and a half inches. Now I don't claim to be any sort of Bassmaster but the lack of a decent fish among nearly three dozen in the log still leaves me scratching my head. Such is fishing.
Windows – Adding to the odd results were the highs and lows of the bite during the day. The first few hours of hiking and casting saw a solid bite and produced seventeen bass. However, the next two hours of roaming saw the bite shut down completely as I couldn't even find a bass in one of my best spots. The last few hours saw the bite resume as I landed another seventeen bass. Simply weird, such is fishing.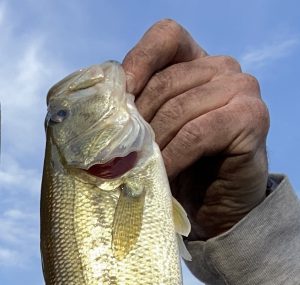 Everything out of the water falls prey to a sooty covering
Soot – Much of the area that I fished has recently undergone a controlled burn, leaving the landscape charred and bare. This makes for easy walking and bank access and is always a welcome development. It also makes for sooty gear, hands, and clothing but by far a fair trade for the benefits. My utility boxes and backpack end up with a fair collection of ash by the end of the day and my hands are dirty enough that I usually rinse them in a lake before eating my sandwich. I do find it cool that my fishing log bears the sooty reminder of a day spent traipsing the burnt terrain. Folks have asked my why I don't use one of the many fishing apps that are available and the ashy pages in the log are part of the reason. For me, the handwritten entries enhanced with soot, dirt, blood, rain spots and bleeding ink make it much more of a living log than some words and numbers on a device. Such are my fishing habits.
While there were no quality catches to report, there's always something to write about when it comes to a day on the water. And that's what I do, no matter the results. Talk to you later. Troy